Falcons Women 10 Chiefs Women 27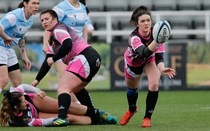 Newcastle Falcons Women 10
Exeter Chiefs Women 27
By Mark Stevens
Exeter Chiefs Women's Head Coach Susie Appleby was full of praise for her team after they defeated rivals Newcastle Falcons 27-10 in Sunday's friendly fixture at Kingston Park.
Running out officially for the first time as a Chiefs Women's side, the visitors didn't disappoint, running in five tries to secure a victory which certainly augurs well for the future.
Despite falling behind to an early try from Newcastle winger Emily Oliver, the Chiefs hit back just five minutes later when winger Garnet MacKinder, marking her first appearance in almost a year due to injury, found herself with an easy run to the line after a superb show and go in the centre of the pitch drew in the Falcons defence.
With little to choose between either side at that stage, it was the visitors who stole in front when, following a patient build up from the Chiefs, they created the opening for hooker Charlie Budge to be driven over from close range.
Exeter's lead, however, proved short-lived as within a minute the Falcons drew level, full-back Georgina Cutt – who had threatened the Chiefs line in the early stages – made the most of her latest opportunity, this time finishing off a slick handling move created from the restart.
As half-time approached, it was the Chiefs who forged back in front, flanker Ebony Jeffries claiming their third with a clever break.
After such an entertaining first half, the second period had a lot to live up to. However, it was Appleby's side who extended their lead on the hour mark, Jeffries stealing over for her second of the afternoon to make it 20-10.
The Falcons did their best to try and haul in the deficit during the final quarter, but it was the Chiefs who wrapped up their win late on, Jeffries bagging her hat-trick score, which was converted by centre Mollie Pepper.
Post-game, a delighted Appleby said: "Obviously we're delighted to have got the win in what was our official first game as Exeter Chiefs Women.
"If I'm honest, our first half performance was probably better than our second, but this is a great launchpad for us to now kick on. For as coaches – and also for the players – we now have something tangible to work with.
"It took us a little while to get going, but that was kind of expected given it was our first game. Once we settled down, I thought there were some really good aspects to our play.
"It was great to see Garnet MacKinder back out playing again after injury, I thought our back-row of Linde van der Velden, Ebony Jeffries and Jo McBain went really well, as did the two Swedish girls (Paulina & Matilda Toresator), and Mollie Pepper was excellent in the centre. I was also really pleased to see that we had five or six 17-year-olds playing, so the signs are really encouraging for us."
Many of those on duty in the North East are expected to feature again in Exeter's next fixture, which comes on Saturday, March 7 when they play host to the Army Women at Sandy Park (10:45am).
"We've got the Army coming to Sandy Park in a couple of weeks and all our focus will be on getting ourselves prepared and ready for what will be another step up in standard," added Appleby.
"This game has given us a baseline of where we need to be, but we're aware that we still have plenty to work on."
Falcons: G Cutt; E Oliver, Z Hornby, S Hulme, T McGillivary; J Dodds, C Morrell; J Sales, E Pigford, A Needham; J Tolson, L Cowell; C Storer, J Riley, I Northrop. Replacements Used: C Firth, S Falconer, B Churm, L Roberts, M Church, C Topham, C Sedgeworth, G Morgan, C Potter
Tries – Oliver, Cutt
Chiefs: N Ridgeway; G MacKinder, L Holland, M Pepper, P Toresator; I Love, M Toresator; M Roberts, C Budge, L Peake; L Anning, K Armstrong; J McBain, E Jeffries, L van der Velden. Replacements Used: A Marshall, A Middlebrooke, M Lynch-Barsby, M Andrews, N Terry, G Gower, F Perry
Tries – Mackinder, Budge, Jeffries (3); Conversion - Pepper
Referee: A Mann