Final few places left for Land Rover Premiership Cup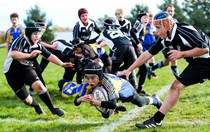 By Mark Stevens
1/6/21
Excitement is already building as the Exeter Chiefs Community team prepare for their latest Land Rover Premiership Cup, which takes place at Crediton Rugby Club on Sunday, June 20.
Building on the success of previous years, the Chiefs will again be bringing teams from across the region to Exhibition Road as one of a national series of rugby festivals for Under-11 and Under-12 teams.
As always, the event is proving hugely popular with local clubs and we currently have just one space available in the Under-11s section and two in the Under-12s.
If your team want to get involved, act now by emailing our Community Development Manager, Aron Struminski at aronstruminski@exeterchiefs.co.uk.
Land Rover is proud to be the Official Vehicle of Premiership Rugby, a partnership that stretches back to 2002. And here in the UK, they have been supporting rugby at all levels; from the grassroots to the elite, for nearly two decades.
Support for the development of the game is typified through its nationwide grassroots rugby initiative, the Land Rover Premiership Rugby Cup, which is vital in fostering the values at the heart of the game and has seen over 100,000 youngsters participate since its inception.
Land Rover has helped thousands of youngsters discover rugby through the annual rugby events with some realising their dreams of going on to play for Premiership Rugby clubs.
The return of the Land Rover Premiership Rugby Cup across the country is a huge boost for grassroots rugby and here in Exeter we can't wait for another highly successful event later this month.