Healthy outlook for Devon youngsters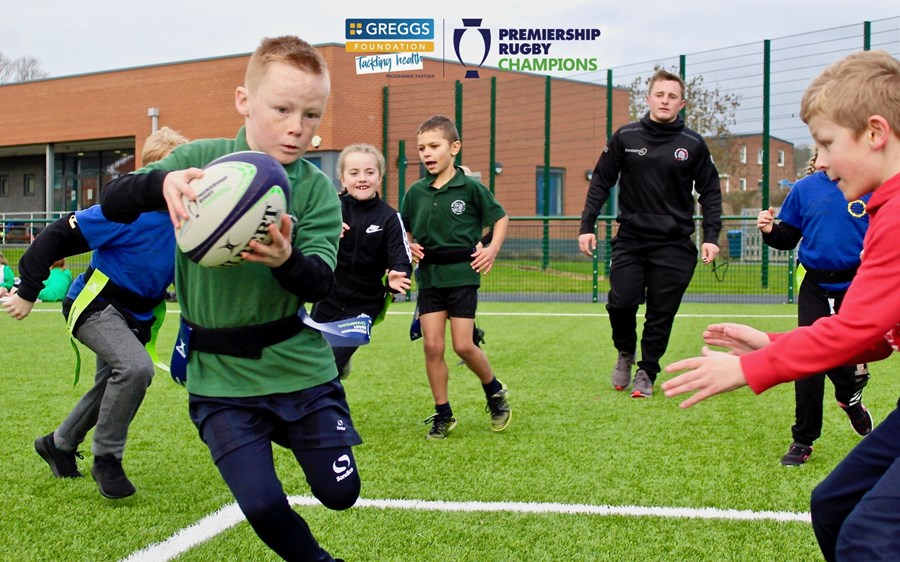 By Mark Stevens
18/6/19
Educating youngsters about a healthy lifestyle has been part and parcel of an exciting new programme Exeter Chiefs Community team have run in conjunction with Premiership Rugby.
The Tackling Health programme is aimed at teaching Year 3 children (7-8 years-old) about their own health, well-being and about leading a healthy lifestyle with a rugby focus.
Delivered nationally by Premiership Rugby clubs across England, and in partnership with the Greggs Foundation, the key aims of the project are to improve young people's understanding of healthy eating, a healthy diet and to increase levels of physical activity.
The five-week programme was delivered to over 38 different classes across Devon, including in Exeter, Plymouth and Tiverton, with sessions taking place both indoors and outdoors.
In the classroom, the children would take part in activities around the 'Eat Well Guide', as well as food, the roles of the foods, and healthy choices. The outdoor session was then based around tag rugby, and giving the children the skill-set and understanding to play games by the end of the programme.
When the programme was released, Wayne Morris, Community and Corporate Responsibility Director at Premiership Rugby, said: "Premiership Rugby's Tackling Health programme does just that and we are very excited to be working with the Greggs Foundation. Learning how to choose, cook and eat healthy food from a young age is an invaluable skill. By ensuring youngsters develop these important life skills and good habits early; we hope this will have a positive and lasting impact throughout their lives."
Now the programme has finished, Chiefs Community coach Richard Bright has spoken of the positives it has brought to so many young children.
He said: "Whilst delivering this programme, I have seen a massive change in the classes I have been delivering to, with children really engaging in this programme, therefore benefiting from it hugely. I have seen children since the programme, who have made changes to their diet in a positive way, which should help them both academically and physically. This was a great success this year, and look forward to delivering it once again next year."