Hill not one to rest on his laurels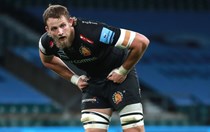 By Neale Harvey
19/1/21
Exeter Chiefs and England lock Jonny Hill insists he is not in the business of reflecting on past glories as he resets his sights after a stellar end to 2020 for both club and country.
Like London buses, Hill's lengthy wait for silverware ended in a rush when Exeter's double-winning exploits in October were followed by a first England cap against Italy and Six Nations success, before he rounded things off with a fourth trophy in the Autumn Nations Cup.
An achievement to savour, surely? "I'm not really too big on reflection, to be honest," Hill, 26, tells The Rugby Paper. "I think I'll reflect more when I retire, but only for the reason that I want to keep improving as a player and keep achieving bigger and better things.
"It was still a really good few months, though, because you build up to it and you want to win trophies. At the club, we'd waited a long time and been on the end of some horrible final defeats, so to go and win the Champions Cup and Premiership at once was really strange.
"Then to have three weekends on the bounce, winning three tournaments after playing in the Six Nations for England, I honestly can't put that into words. To add a fourth trophy after that… well, what can I say? It's something that could maybe never happen again."
Having won his first four caps, Hill says he revelled in the England environment and benefitted from working under forwards coach Matt Proudfoot – a man whose reputation soared after he helped construct the mammoth South African pack that won the last World Cup.
"I actually loved being with England," Hill said. "It was an environment that I've needed for a long time because I've been at Chiefs for quite a long period – six years – and hearing new coaches and new players speaking and having to go outside my comfort zone was good.
"I had to learn new things – a whole new playbook and lineout systems – in just a few days and whilst that was obviously uncomfortable, it was uncomfortable for the right reasons.
"I relished learning as quickly as I could and picking up all the various bits. I enjoyed working with Matt, who's a very good, honest coach and we speak quite a lot now.
"I respect him massively for his track record so with having Rob Hunter coaching me at the Chiefs as well, I've got a brilliant support network of coaches around me now."
Hill added: "John Mitchell (England defence coach) was another guy we got coached a lot by in that autumn camp and he's a lot different to the others. His meetings are short and sharp but they're very precise and you're left in no doubt about what's required of you.
"He has a bit more of a jovial way of doing it as well, which is great for someone like me.
"All in all, I found it a really good experience and the message from Eddie Jones after that Autumn Nations Cup was just to keep improving and have long term goals around where I want to get to – nothing too different to usual but it's something I've taken on board."
Jones will soon name his Six Nations squad but, in the meantime, Hill is fully focussed on helping Exeter right the wrongs of a stuttering start to the new year, with successive league defeats to Wasps and Bristol casting doubt on their ability to defend their hard-won title.
After last week's 20-7 home loss to Bristol, Chiefs supremo Rob Baxter accused his side of having an 'emotional wobble'. Hill concurs, explaining: "I could give you a whole number of excuses but no matter what Exeter team goes out, we need to be better than that.
"The way Bristol played, they deserved everything they got and were very good. They came with a plan and stuck to it and beat us quite well, so it just shows you that you cannot drop your guard in this league for a minute or you'll come unstuck in a pretty big way.
"For us to go and achieve what we did last year – and that's the aim – we need to be even better now, so we've had some good, honest meetings and the feeling at the club now to how it was last Monday after that Bristol game is world's apart. We're ready to put it right."
Exeter will not give up their crowns easily and another silver lining is it now looks likely they will have a chance to defend the Champions Cup, with EPCR expected to confirm that the top eight sides in each of this season's two Pools will contest a knock-out round of 16.
Hill says: "We'll scrape through but it's something to look forward to when it comes around and something we can use as momentum for us leading up to it. In the league, we'll be able to build up to that kind of big game that we're going to need to go and win.
"It looks like we're going to get Wasps or Racing 92 away, but at least we'll get an opportunity to go and try and win it again, which is a big goal of ours. It would have been horrible to go out after losing those points against Toulouse, so now we have another chance."