Hitz success stories continue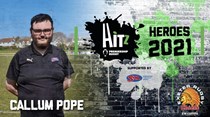 CALLUM OVERCOMES THE BARRIERS OF LOCKDOWN TO BE ANNOUNCED A PREMIERSHIP RUGBY HITZ HERO 2021
Callum Pope from Exeter Chiefs HITZ programme has been named a HITZ Hero 2021 by Premiership Rugby, in recognition of his achievements despite the challenges of lockdown.
HITZ is Premiership Rugby's flagship education and employability programme, working with more than 2,000 14-23 year-olds across England every year. The aim of HITZ is to help young people classified as NEET (not in education, employment or training) turn their lives around through gaining qualifications and developing their personal, employability and life skills.
The awards, which are supported by former England International Ugo Monye, celebrate young people across the country excelling over the last 12 months despite the pandemic. Callum is one of six outstanding young individuals who have been named HITZ Heroes this year.
Callum, who is now 22 years old, joined the HITZ programme at Exeter Chiefs in 2019. He has had such an impact on teaching staff due to his diligent approach and supportive nature, that he was offered a teaching assistant role on HITZ in June 2020.
Callum had previously struggled with severe social anxiety before joining the programme and was taking medication to help him. With the help of HITZ, he has turned this around completely, so much so that he is now delivering lessons to HITZ students.
During lockdown Callum was assigned a number of students to mentor and support, regularly calling and meeting with them to check on their wellbeing. He has received high praise from the SCL Education Group apprenticeship team for his assignments and quality of work.
Gareth Williams from Exeter Chiefs and Lewis Griffiths from SCL Education Group nominated Callum for a HITZ Hero award in recognition of the progress he has made.
"Callum's transition and journey from student to teacher has just been incredible and we are extremely proud of him. He has been an incredible addition to our team. He has gone from having no aspirations to having clear goals and targets to work towards."
With the Government reporting unemployment for young people increasing by 11% since the start of the pandemic, and that by the end of last year there were an estimated 800,000 16-24yr olds in the UK classified as NEET, Premiership Rugby's commitment to supporting and developing individuals like this has only become more steadfast.
Wayne Morris, Community and Corporate Social Responsibility Director at Premiership Rugby said,
"To see Callum go through the programme and now join our HITZ delivery team is amazing. His own experiences personally and on the course have given him a natural empathy towards the HITZ students he now teaches. He understands their challenges and how to effectively communicate and engage with them."
"Callum's story shows that determination coupled with support and opportunity can open doors and change lives. He is the embodiment of what HITZ is all about and should be proud of what he has achieved."
Supported by the CVC Foundation, Wooden Spoon and SCL Education Group, nearly 16,000 young people have engaged in the HITZ programme since it was created in 2008.
Lawrence Blair, Director of Partnerships at SCL Education Group, said:
"We're proud to support the HITZ Heroes Awards which recognise the incredible resilience and determination that these young people, including Callum have shown during the last year. Often, they haven't always had an easy start in life but Callum has shown the HITZ programme helps really empower young people to make a real difference to their lives and the lives of others."