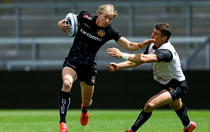 By Mike Smith
6/8/20
Lockdown life has been strange to say the least for all of us.
For a professional rugby player, training on your own, not knowing when you would be playing next, and life away from your team-mates was something they had to be accustomed too.
Thankfully, life has returned to a new normality and for Exeter Chiefs newcomer Josh Hodge, he's slowly been getting to grips with the day-to-day activities here at Sandy Park following his move from Newcastle Falcons last month.
Starting his career playing for Sedbergh School and a product of Newcastle Falcons academy, Hodge has settled in quickly to life in the Westcountry, albeit whilst delving into unknown waters.
"It's been great to get to know the other players and coaches," said Hodge. "Sometimes it can be scary coming to a new club, but all the guys have been great and it's been good to get out there and get going."
Highly-rated despite his tender years, Hodge - who is equally adept at playing on the wing or at full-back - acknowledges there is an awful lot of experience that he can pick up from the his new team-mates, who include the likes of Jack Nowell, Stuart Hogg, Olly Woodburn and Tom O'Flaherty.
"The people that they are, they're not telling me to go away," he continued. "They're really good players but, at the same time, they've all welcomed me and helped me out if I've needed it."
Top of the Gallagher Premiership and with a home Heineken Champions Cup quarter-final against Northampton Saints to look forward to next month, the future is looking bright for Chiefs as they look to attack on two major fronts. It's little wonder, therefore, this proved to be a big draw for Hodge as he looked to challenge himself with a big move across the country.
"The club is doing so well in the Premiership and the players that they've got, there's top level players so it's good to get in the mix with them and learn off them whilst hopefully pushing them for positions too," said Hodge. "The hope is to get some game time, push on with the big boys in the back three, and if I don't make the team, then make the others better for game day. The coaches, the players, and the facilities as well are top class, but my aim is mainly to learn. It's a great opportunity for me to learn off the likes of Hoggy, Nowellsy, Cuthy, Flats and Woody, who are all top players, and looking at learning off them was an area that I thought I could develop."
The move comes at a strange time, as with all of his colleagues, Hodge has five months on the sidelines awaiting the restart of the rugby season, whilst also battling against an ankle injury which kept him out pre-Covid.
"It was tough at the start as I didn't have any equipment at all, so it was a struggle having to find your own ways to do stuff, and overcome the problems that you had. I was rehabbing my ankle injury, which I had to do on my own which was pretty difficult, but it was good at the same time to learn about my body. Coming into the club having not done so many weights over the break was a big jump."
Hodge got his first taste of what the Exeter Chiefs are all about last week, when he was picked to start in an in-house game between two strong Chiefs sides. A game in which he impressed whilst also scoring a chip-and-chase try in the second half, much to the surprise of the on-looking coaches.
"It was a good game, having five months without playing and coming back from an ankle injury, it was really good to get back out on the pitch, do our stuff and get back into the movements of how we want to play here."
Coming into a new club can also be daunting for any young player, however Hodge has good ties with a number of the Chiefs players, a number of whom he has lined up alongside at England Under-20's level.
"It was nice obviously having a few chats with the boys before I arrived here," he added. "We went for a few coffees and meals at theirs. Having those guys from the 20's and the likes of Hinkley coming in, Sam Maunder, Richard Capstick, James Kenny and Alfie Petch, they are all guys I had a good laugh with during England camps. Knowing players before you arrive is always going to give you a helping hand and help you settle in a lot quicker."
And with just over a week until the Chiefs welcome a reformed Leicester Tigers to Sandy Park, training is certainly ramping up. Hodge knows that the schedule of rugby in the coming ten weeks, could well lead to him having a part to play, in how the season unfolds for the Devonians.
"It's going to be a squad effort," he continued. "Obviously, you have your team and then the boys who will be helping to get them ready of training day. That said, the crammed games means you always have to be prepared, know your stuff and look after yourself. At the moment I want to be pushing for that team, I'm eager and want to be playing. Hopefully, I'll get some game time early on, but for now I'm just concentrating on getting my head down, getting stuck into training, and preparing myself as best I can for the games or training."