Hunter impressed by pre-season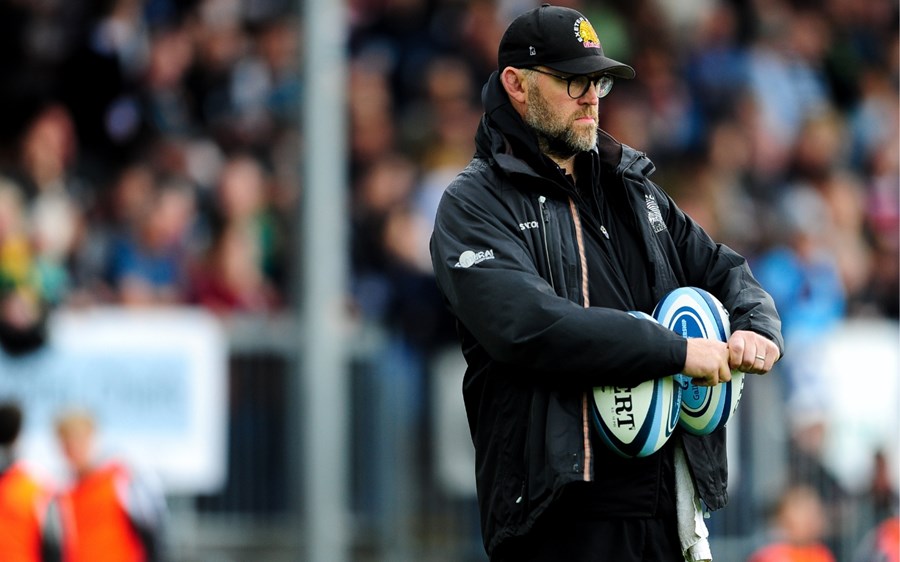 By Mike Smith
5/8/19
Exeter Chiefs Forwards' Coach Rob Hunter says that he's 'impressed' by what he's seen so far in training going into the new season.
He and the Chiefs' Coaching Team have been hard at work over the past month getting the boys ready for September when Bath visit Sandy Park in the first round of the Premiership Rugby Cup.
Hunter is going into his seventh season as Forwards' Coach at Sandy Park, joining back in 2013 from the RFU, where as Under 20s Head Coach he had guided the likes of Jack Nowell, Sam Hill, Henry Slade, Alec Hepburn, Luke Cowan-Dickie, Ollie Devoto and Tom Price to Junior World Championship glory.
"It's been excellent," said Hunter. "It's been a lot of hard work, which you expect, but every club always says they're working hard and we all pore over each others pre-season videos to see what people are doing in the background!
"All the lads are working hard, they've come back in really good nick. We're particularly impressed with some of our senior players who played right through to the end of last season. Guys like Ollie Devoto, Alec Hepburn and Matt Kvesic have come back really strong and are training really hard; it's setting a real tone in training so we're really pleased."
Hunter continued, "Having the cup fixtures upfront allows us to give a bit more time off to our senior guys and our international players get more of an extended break. It's different but it allows the guys who are here to get ready to go.
"Some of the guys will be introduced a little bit later into the competition, but we want to win every competition that we're in so we will approach that when we get to it. At the moment we've got a couple more weeks until another break and we're flat out in the sunshine which I think is perfect although it is a little bit hot!"
With the World Cup kicking-off at the end of September 2019 and a revised schedule to the Gallagher Premiership season, the players will be put through an extended pre-season.
Talking about the difference from previous years, Rob said "I like the rhythm of the season once you get into games but it's quite nice to have some weekends at the moment at home with the family and enjoy what Devon has to offer. It's slightly different this year as it feels like the off season is on season. It's beginning to feel like a 12-month thing because the guys are always maintaining fitness and we're always working anyway, so in that sense we're just cracking on."
The Chiefs last on-field action came at the Gallagher Premiership Final where the team would end up coming just short of winning their second Premiership title, but Hunter says the coaching staff and team learned a lot from this experience.
"I got straight into talking about it to be fair," he said. "I actually met up with quite a few of the guys over the couple of weeks following the game and got some good feedback from them. I thought it was a really fantastic game and we learned a lot from it as we always want to. It would be nice to win and learn from that but we didn't, so we get on with it and we go again next year."
"We've got a really good age profile in the squad and we've actually dropped in a couple of guys who will be competing for first team places as well. Last year there wasn't many that came in and you do want that bit of fizz that comes with competition for places, as things can get into a bit of a status quo sometimes.
"There are some guys bouncing around in there challenging and pushing hard in training which is always what you want. We have got that core group who are really focused on what they want to achieve and I'm excited about next year, it looks like were going to be pushing on all fronts."
Jannes Kirsten joined up with the Exeter Chiefs squad last week, becoming the sixth player to arrive at Sandy Park this summer and competition for places is something that Forwards Coach Hunter thinks will push the rest of the squad on going into the start of the season.
Offering some insight into the new additions to the Chiefs squad, Hunter said: "It's great to have that bit of a fizz up in that area, to push a bit of pressure on the guys that have been getting picked which is good and also new ideas that come and new energy.
"I think Stan (Smith) is a classic Chiefs player, he's come after having quite a bit of a knock back elsewhere and he's had the opportunity to come back into the Premiership, and we're expecting him to carry that into pre-season and onto the pitch come September."
The Exeter Chiefs return to action at Sandy Park on Saturday, 21st September for their opening Premiership Rugby Cup game against Bath. Tickets are available for all confirmed games at the Exeter Chiefs Ticket Hub.