Internatonal action at Sandy Park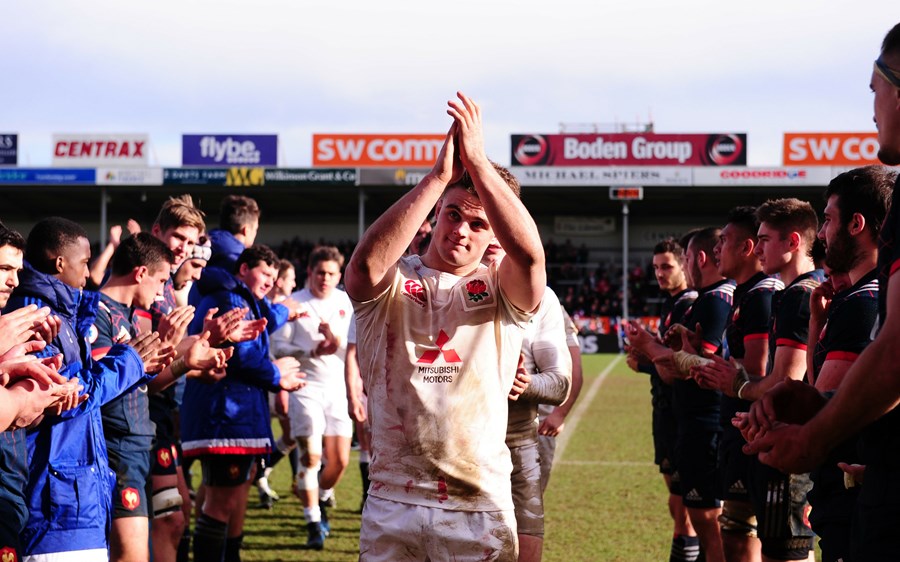 By Mark Stevens
30/1/19
The future stars of English Rugby are heading for Exeter as Sandy Park prepares to play host to Six Nations Championship action.
England Under-20s will face-off against France Under-20s in their second fixture of the season on Saturday, February 9 at 12:05pm.
With Exeter Chiefs stars on show within the England ranks, come and enjoy the ultimate match-day experience.
Our unrivaled hospitality packages, as well as Corporate Box opportunities are still available, so why not make the most of the opportunity to sit back and relax, whilst taking in the international action right here in the Westcountry.
To find out more about our Hospitality or Corporate Box packages, simply contact Kai Horstmann on 01392 890879 or email him at kaihorstmann@exeterchiefs.co.uk
Equally, general match tickets are still available for this game – and the upcoming Six Nations clash between England Women and Italy Women – which will also take place at Sandy Park on Saturday, March 9 (12:05pm).
Tickets for both games are priced at:
West Grandstand: £15 Adult; £10 Child/Youth/Student
SW Comms: £10 Adult; £5 Child/Youth/Student; £25 family ticket (2a + 2c)
East Terrace: £10 Adult; £5 Youth/Student
North Terrace: £10 Adult; £5 Youth/Student
Before both international fixtures, the Exeter Chiefs Community team and England Rugby will be hosting a free Pitch Up and Play Rugby Skills Sessions for match ticket holders.
The sessions will be suitable for beginners right through to more experienced players with a variety of skills stations to try.
Opportunities available are:
Saturday, 9th February – 10-11:30am - U6 – U16s Mixed Rugby Skills Session
Saturday, 9th March – 10-11:30am – Women's and U18/U15/U13 Girls Rugby Skills Session
On both days, gates to the stadium will open at 10am, after which participants can register on the training pitch behind the North Stand at Sandy Park.
Participants will need studs (plastic or metal) or trainers to take part, the sessions will be non-contact. Please ensure all children below the age of 18 are accompanied by an adult at all times. For more information about these sessions please contact andrewdudley@exeterchiefs.co.uk
All participants must have a valid match ticket for the International fixture on the day of the session.