Isaacs added to ERC Limited Board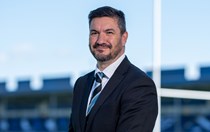 By Mark Stevens
6/10/21
Exeter Rugby Club chief executive and chairman Tony Rowe OBE has today welcomed a new director onto the board of Exeter Rugby Club Limited.
Mark Isaacs will take on the role of Stadium Operations Director and is now one of eight directors on the Rugby Club board, which is the subsidiary company of the main Exeter Rugby Group PLC.
Mr Isaacs joined the Rugby Club in September 2020 from Swindon Town Football Club, where he had held the role of Chief Operations Officer for much of his 15-year tenure.
Since arriving in Devon, the 48-year-old has been heavily involved in major club projects such as the building of the new Courtyard by Marriott Sandy Park Hotel, the redevelopment of the East Stand, as well as guiding the Rugby Club and Sandy Park itself through the ever-changing picture created by the Covid-19 pandemic.
Mr Rowe said the decision to add to his board was a clear indication of how the club and the business as a whole are looking to build for the future, particularly as they look to make up for the significant losses incurred during the past 18 months.
"When we first moved to Sandy Park back in 2006, we had a turnover of something like £1 million," said Mr Rowe. "But over the years, the club, the stadium and the business have grown enormously into a business that is now has a multi-million pound turnover.
"Our success on and off the field is down to a group of hard-working and dedicated staff, all of whom are determined to drive the club and our business onwards and upwards. The appointment of Mark Isaacs to our board is a significant step in raising our standards even higher.
"Together with the existing board members, he will continue to help oversee and spearhead the growth and the vision of our club, which I know is very exciting."
Mr Isaacs himself is delighted to be taking on the new position, adding: "Obviously, I am incredibly proud and honoured to have been asked to join the Exeter Rugby Club board. Already I have seen in my time here with the club how forward-thinking and exciting the overall vision for the business is.
"Although it has been an incredibly testing time for everyone due to the effects of the pandemic, the work we have been able to achieve during this time underlines the strength of how we are looking to get the business back on track and hitting the same success levels as it held previously."
Exeter Rugby Club Ltd Directors
Tony Rowe OBE - Chairman & Chief Executive
Natasha Pavis - Managing Director
Alan Quantick - Finance Director
Lisa Duncan - Sales & Marketing Director
Mark Isaacs - Stadium Operations Director
Chris Over - Group Company Secretary
Toni Percival - Director of Administration
Nicky Teague - Finance Director