Landmark partnership for Exeter College & Exeter Athletic RFC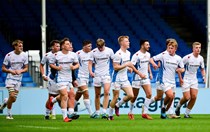 By Mark Stevens
19/8/20
Exeter College and Exeter Athletic Rugby Club have announced a landmark new partnership that will see further significant investment into the club's Bravelands facilities and the College's Rugby Academy fixtures moved to be played at Oil Mill Lane on the planned improved pitches
Exeter Athletic, who run a number of amateur sides for men and women, currently play their fixtures at Bravelands on Oil Mill Lane and now, with additional planned support from Exeter College, the pithes will see significant improvements and the clubhouse and changing facilities; creating an exceptional environment for rugby.
The College's hugely popular Exeter Chiefs Rugby Academy, which provides the region's aspiring male and female rugby stars a route into professional sport alongside gaining formal qualifications, will soon play their fixtures at Exeter Athletic's Bravelands ground, providing students high quality facilities for matchdays to go alongside their existing professional facilities at the College's Exwick Sports Hub.
The announcement further strengthens the College's Rugby Academy offer and continues to bolster the Women's Rugby Academy ahead of the launch of Exeter Chiefs' first ever professional women's side later this year.
Exeter College Director of Vocational and Technical Education Ross Morshead said, "This is a terrific partnership for our learners and this facility will be a great asset to the community game in Exeter as well as to our students".
"We're looking forward to sharing Exeter Athletic's home and we can't wait to welcome some of the best schools and academy programmes from across the country to Bravelands. I know our students are really looking forward to the benefits this will bring them as part of their studies.
"Exeter Athletic is a terrific rugby club, offering fantastic opportunities in the amateur rugby game for people of all ages and abilities. It's great to be able to work alongside such a great community club and be a part of their future plans."
The Exeter Chiefs Rugby Academy students with Exeter College will continue to train at their specialist Exwick Sports Hub and will compete in official fixtures on Wednesdays at Oil Mill Lane. This new partnership allows both the men's and women's sides to run a number of fixtures in the same location on the same day.
The Exeter Chiefs Rugby Academy with Exeter College has a long history of success, with many students going on to earn professional contracts following their continued education with Exeter College. Others have also used the programme to develop into a career in the sport industry, even if it's not on the pitch.
Harry Langley, chairman of Exeter Athletic said, "Exeter Athletic are really pleased with this new collaborative partnership. Being a community based club with lots of pitch space, we want to see the facilities used as much as possible. With the drainage improvement this partnership will facilitate as well as the new clubhouse building plans that are in the final planning stages, then we expect the next year will see a major step change in the rugby played at Bravelands."
Find out about the Exeter Chiefs Rugby Academy with Exeter College.
Reformed Coaching Set Up
The Rugby Academy is also set to welcome a fresh coaching set-up, with Keith Brooking joining as Exeter College Rugby Programme Manager and Ruairi Cushion appointed as First Team Head Coach. The addition of Keith to this role further strengthens the already outstanding quality of coaches throughout the programme which is overseen by Exeter Chiefs Academy manager Rob Gibson.
The full coaching team for the men's programme can be seen below with the women's set to be announced in September.
Rob Gibson – Exeter Chiefs Academy Manager
Keith Brooking – Programme Manager
Jon Hill – Head of Rugby
Ruairi Cushion – 1st Team Head Coach
Jon Fabian – Rugby Coach
Ali Hill – Rugby Coach
Richard Middleton - Head of Strength & Conditioning
Harry Wright - Strength & Conditioning
Marc Dibble - Apprenticeship Manager