Van Der Velden looking to keep making History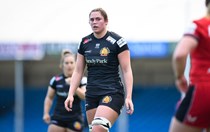 By Harry Scott-Munro
14/05/22
Exeter Chiefs' Dutch Wonder Women Linde van der Velden is hopeful that her side can 'keep writing more history,' as they look to secure a home semi-final berth on Superhero Saturday at Sandy Park.
Last weekend, the Chiefs put in arguably the performance of the season as they secured a record-breaking 54-12 victory against Saracens. It was a significant day for the club but also an important one on a personal note for van der Velden, as she scored in front of her family, who had made the trip over from the Netherlands to cheer her on.
The result was one that secured the Chiefs a spot in the play-offs for the first time but van der Velden and her teammates are still wanting more as the season reaches its final round.
"I think we surprised everyone with that performance. We worked really hard and put the effort in to get that score. It was an amazing match but immediately on Monday, everybody realised that yes, we'd secured a place in the semi-finals, but that we want that home semi-final," van der Velden acknowledged. "We still want to put in a good performance against Bristol, so there's been no drop in training. It's about the next job and focusing on Bristol."
Exeter suffered a defeat to the Bears on the opening day of the season back in September but won the most recent encounter between the sides in the cup semi-final at Sandy Park.
Van der Velden explained how that opening day defeat was still something that was driving her side and admitted that the recent cup clash at Sandy Park would not have an impact on Saturday's encounter.
"The first game of the season, we didn't perform how we wanted. That's still in the back of our minds. The cup semi-final here, we know that they had a very different team to what they will have now. We know the strengths they have and what they are capable of bringing. But that focus is still definitely on ourselves."
With the Bears having secured a semi-final berth themselves, van der Velden is expecting a high-octane encounter at Sandy Park, believing that the threats that her side have across the park could be the difference come full-time.
"We've showed in the last few games that we have strengths all over the park. We're focusing on performing well and looking at what we need to work on building into the semi-final and hopefully maybe a final as well. Bristol have their internationals back, but they will still have those threats they carried last time. We just have to trust our system and look to stop those threats. We'll see on Saturday."
Having secured a league semi-final berth for the first time in their history, after securing their first piece of silverware with the Allianz Cup triumph, van der Velden admits that the excitement is building within the group as the season reaches its crunch point.
"It's so exciting. We all want to be in the semi-final and the final, but we know the steps that we need to put in beforehand. Winning the cup was amazing in our second season. But we're working really hard to make sure that the shirt is left in a better place and to put on a show for all those who come to Sandy Park."
That crowd have been a crucial factor for the Chiefs in recent weeks, with more and more fans flocking to Sandy Park to cheer on the side. Van der Velden was quick to credit the impact they have had on her side and felt that the opportunity to potentially play their semi-final in front of the vociferous Chiefs crowd was an opportunity her team have to work hard to secure.
"The crowds have been amazing for the last few games, so we really want to push for a home semi-final. It would be an amazing opportunity. We've been working really hard and putting in the analysis. Hopefully we can perform on Saturday."