Lonsdale quietly goes about his business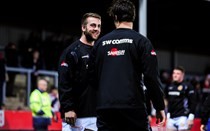 By Mark Stevens
2/2/20
His team-mates often refer to him as the 'Silent Assassin' – but the hidden on-field work carried out by Sean Lonsdale when he takes to the battle field, often leaves a scene of carnage amongst opposition sides.
The destructive forward is often a man of few words, preferring instead to leave his talking out on the pitch. However, the 22-year-old is these days fast making a name for himself amongst the much-vaunted Chiefs pack of forwards.
Brought to Sandy Park during the summer of 2016, having been spotted by Director of Rugby Rob Baxter playing for RGC (Rygbi Gogledd Cymru) in North Wales, Lonsdale was a genuine unknown to many when he first rocked up in Devon.
Initially loaned out to Taunton for a season, then down to Plymouth Albion for another, it was that exposure to senior men's rugby, coupled with training here at the Chiefs, that Lonsdale's career really started to flourish.
Working under the close gaze of Baxter and forwards coach Rob Hunter, it was pre-season ahead of the 2018/19 that the Manchester-born youngster started to really make an impact.
Impressive displays in warm-up fixtures were then rewarded with inclusion in the match-day squad for the opening Gallagher Premiership clash of the season against Leicester Tigers. Brought off the bench on 67 minutes, it was a dream debut for Lonsdale as he helped the Chiefs to a 40-6 home victory.
Further top-flight involvement followed in the coming weeks, including a first-ever Premiership start in the home win against Sale Sharks, as well as another debut, this time in the Heineken Champions Cup away to Castres.
It was, according to the man himself, a rapid rise – but it was an ascent that was fully justified, given his performances both in training and in games themselves.
"Until I got here, I didn't realise how far I could really go in terms of my rugby," he said. "I'd always enjoyed rugby growing up, but coming to Exeter has really changed things for me. I look at where I was – and where I am now – it's miles away!"
Not that Lonsdale for one minute believes he has achieved his peak. Indeed, the ambitious forward is part of a glut of highly-rated youngsters the Chiefs have accrued – and who they are developing for greater things in the future.
"I'm not someone who tends to look too far ahead," he said. "For us to get to where we need to, it's going to take a lot of hard work by all of us. It's important we focus on the here and now and not too much down the road."
And that here and now continues this afternoon where Lonsdale will be part of a Chiefs outfit bidding to secure a place in the final of the Premiership Rugby Cup.
A competition which has served the Devon club very well over the years, it's Harlequins who stand in the way of the Chiefs as they go in search of lifting the trophy for the third time in the club's history.
Lonsdale knows from past experience that the Londoners will be tough nut to crack and issued a timely warning this week about the threat posed by Paul Gustard's side to their own Cup hopes.
"Harlequins are always tough opposition," he said. "They'll be coming down here, fresh from pumping Saracens last week, so we have to be ready for them. Looking at them in detail, you know they'll have a tough pack and that they are not afraid to throw the ball around out wide.
"It'll be a test for us, but that's kind of what you expect at this level. Every week is a challenge, whatever competition you are in, so it's up to us to go out there and put in big performance."
With three bonus point victories out of four in the pool stages, the Chiefs certainly demonstrated how seriously they are taking the competition.
"Because of the World Cup, we had to go straight into things," added Lonsdale. "It wasn't like a normal pre-season as such, but it was a new challenge and it kept us on our toes. Obviously, we got some very good wins in the pool stages, but now we have to build on that good work. All those victories have done for us is give us the opportunity to get that first piece of silverware.
"Right now, the squad as a whole is in a great place. We're top of the Premiership, we've got a home quarter-final in Europe, and we've got another home semi-final in this Cup. Our goal for every competition is to obviously go and win it, if we can, so we just need to build on what we've done so far."
This afternoon Lonsdale will line-up in a Chiefs squad that has a healthy mix of youth and experience, all of which will need to come together as one to ensure they advance.
Lonsdale, though, has every confidence he and his team-mates can succeed, particularly given the close bond that exists across the squad here at the Chiefs.
"The squad is very close-knit," he explains. "Across the board, we're mates on and off the field. Because we do so much together – day in, day out – you build those close relationships and that shows out on the pitch. Coming into work, not that it likes a real job as such, is for me a real joy. It's great to be part of what is happening here and long may it continue."