Match Reaction - Susie Appleby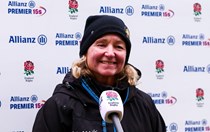 By Harry Scott-Munro
9/1/22
With the goal of striving behind simply reaching the playoffs come the end of the season, Exeter Chiefs Women's Head Coach Susie Appleby was delighted to see her side "launch into 2022 with a bang" as they secured a 43-7 victory over a physical and abrasive Sale Sharks side.
The Chiefs scored seven tries in all, Jennine Detiveaux, Kate Zackary, Laura Delgado, Linde van der Velden, Emily Tuttosi, Merryn Doidge and Brooke Bradley all crossing, with Patricia Garcia adding four conversions from the tee.
Whilst the first half was a tight affair as the Chiefs made a series of uncharacteristic errors, Appleby was left impressed with how her side rectified those errors in the second half.
"It's a tricky place to come, they're a good, physical side," said Appleby. "We just made it difficult for ourselves in the first half. We didn't go off script, but we just made some basic errors and found ourselves in the wrong parts of the field and were in a game at half-time. But the pleasing thing is that we went into the sheds, had a chat about things, then came out and played like we really know we can so in the end, it's a really pleasing result."
One of the most pleasing aspects of the performance for Appleby was the work of her side in the line-out with the Head Coach praising her pack, as well as the control of the game from her backs.
"We knew that our line-out was dominant, so it was about putting ourselves in the positions where we could show that and move up the field. What's really pleasing is that in the second half, we were really controlled in what we were doing, played in the right areas and kept the scoreboard ticking over, which is what we needed to do."
Four of Exeter's tries came from close range drives with Appleby impressed with the improvement in the tight collision zones, whilst also stressing that there was still room to develop.
"We were more dynamic around the try line than we have been. When you slow things down, it's easy to defend against, so we've done some work there. We definitely need to do some work on our scrum and we're aware of that," highlighted Appleby. "But that's what we're here for, to work on those bits of our game. Every week, we need to continue to get better. If we do that, we'll continue to build in the right direction."
Appleby also praised the involvements of the returning Rachel Johnson and Zintle Mphupa, who showed well on her first start for the club.
"Rachel Johnson came back in and was immense. Kate was back in the back-row and Zintle was on the field for the first time at centre. There's lots of things happening and it's almost like starting again, but with us in motion. Zintle was good. She's learning our game, as it's a bit different to what she's been used to with her club in South Africa," noted Appleby. "You could see her moving around, getting into those good positions and using her boot a little bit, which is part of her strength. I think she's going to grow and grow in an Exeter Chiefs shirt. She's excited and we are as well."
Despite the positivity of the result, things won't get any easier for the Chiefs next weekend, as they welcome reigning champions Harlequins to Sandy Park. Appleby is not underestimating the size of the task but called on her side to "focus on themselves."
"Quins are very good. They're sitting in a comfortable position and performing really well. They played against Wasps and got a good win. They're a very good side and were missing quite a few when we last played them," Appleby explained. "We take them as they are, which is the next obstacle in our way, and we will have to try and work out the best way to go through them. But they are absolutely quality, and we will really have to be on our money next week."