Match Report: Jersey Reds 22 Exeter Chiefs 43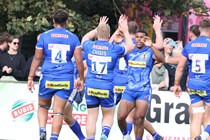 By Leon Rastall
23/09/2023
In what could be described as a test of character for the Chiefs, their resilience and clinical second-half performance proved too much for Jersey Reds as they pulled ahead late in the game to maintain their 100% record in the Premiership Rugby Cup.
The kings of the Championship stood toe-to-toe with reigning Prem Cup champions right up to the 43rd minute, trailing by just two, before what boss Rob Baxter referred to as 'a golden 20 minutes' in the second half paved the way to their bonus-point win.
Exeter struggled to find their rhythm at the start, conceding a stream of penalties and aiding The Reds with field position to profit from. It wasn't long before the home side capitalised on this, setting the tone early doors with Scott van Breda managing to expose a gap in the Chiefs defence for their opening try. Russell Bennett then successfully converted to give the islanders a quick 7-0 lead.
The Chiefs however managed to hit back a few phases later with thanks to a fine solo effort by Manny Feyi-Waboso who raced down the right-hand side, passing several Jersey defenders on his way before slotting down in the corner. Henry Slade sends his first attempt at the posts wide to leave the gap standing at just two points.
Moments later, Chiefs get caught offside and Bennett finds himself kicking at the posts once more. This time with a straightforward three-from-the-tee to take The Reds into double figures.
Baxter has made repeat mention of his desire to profit from strong set pieces this season and this was illustrated once again, in particular through Lewis Pearson's 100% line-out success rate. The first of these, followed by a nice string of pick-and-go phases, allowed Jacques Vermeulen to close in on the line and tie the scores.
It then looked as if the scoreboard would remain locked at 10-all at the break, but in the final play a speculative cross-kick by Harvey Skinner bounced perfectly for Tom Wyatt, who scored in the corner. Chiefs captain Slade, who played the full 80 minutes, stroked over the first of an eventual tally of four successful conversions from seven attempts.
Half-Time Jersey Reds 10 – 17 Exeter Chiefs.
The Reds took first blood after the resumption when Ben Woollett and Van Breda set up Pete Sullivan for a try in the corner, but with the conversion attempt sent just wide, the Chiefs remained in front.
Seemingly unphased by Jersey's early second-half try, Exeter began to really find their rhythm and ramped up the tempo. It wasn't long before the scoreline reciprocated this and the scoreboard numbers started rising.
Wyatt produced a soaring catch and slippery run to the line to ruthlessly punish a loose clearance kick, then Greg Fisilau crossed from the base of a scrum. The penultimate try was for Relton in the left-hand corner after a flowing passing move, and Aidon Davis crashed over within two minutes of his introduction from the bench.
The closing stages saw two yellow cards for Chiefs players: Feyi-Waboso was sent to the sidelines for taking out an opponent in the air, while Relton was punished for a deliberate knock-on. Sullivan and Van Breda set up a consolation try for Alex McHenry for the hosts to take the score to 22-43.
Full-Time Jersey Reds 22 – 43 Exeter Chiefs.
Rob Baxter said afterwards: "We knew it was going to be tough, and had spoken about how we could be in trouble if we didn't keep our discipline, so it was frustrating to concede a penalty after 30 seconds and then a try."
"Sometimes there are lessons you have to learn, and I'd rather learn them now than in two or three weeks, when you might not get a second chance.
"Two things can happen when a Prem club goes behind to Championship opponents: either the pressure gets to you, or you pull yourselves together, which is what we did – it was a golden 20 minutes that made the scoreboard look very different."
Jersey Reds: S Van Breda; A McHenry, D Barnes, P Sullivan; R Bennett (J Barton 63), J Mitchell (T Venner 51); G McGrath (H Owen 63), J Hadfield (D Hughes 48), A Nicol (S Longwell 55), J Hawkins, J Scott (H Chapman h-t), T Smith, L Wynne © (C Booth 58), T Grey (M Argyle 48).
Tries: Van Breda (2), Sullivan (41), McHenry (73).
Cons: Bennett (2), Barton (73).
Pen: Bennett (12).
Exeter Chiefs: T Wyatt (W Haydon-Wood 66); I Feyi-Waboso, H Slade ©, J Hawkins (T Hendrickson 60), A Relton; H Skinner, T Cairns (W Becconsall 60, O Burrows 69); S Sio (B Keast 52), M Norey, E Painter (J Iosefa-Scott 52), R Tuima (J Dunne 63), L Pearson, E Roots (A Davis 60), J Vermeulen, G Fisilau.
Tries: Feyi-Waboso (7), Vermeulen (22), Wyatt (39, 44), Fisilau (48), Relton (57), Davis (62).
Cons: Slade (40, 44, 57, 62)
Yellow Cards: Feyi-Waboso (67), Relton (77).
Referee: Dan Jones
Attendance: 1826