Match report: Tigers Women 27 Chiefs Women 44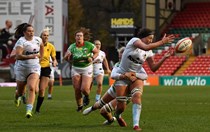 Caroline Moore at Mattioli Woods Welford Road
This was never going to be the try-fest that we saw here three weeks ago but eight tries is still a decent outing. With Tigers internationals back on board and a first game at this level, the home side were out to prove their worth in this league.
They looked the sturdier of the two sides in the opening minutes spending more time in the Chiefs 22 than the visitors would have liked, but Chiefs were still the first to get points on the board. A Chiefs scrum saw No 8 Niamh Orchard peel off the back to release lock Nichola Fryday for Merryn Doidge to burst over the line.
Lineouts were a lucrative set-piece for Chiefs all afternoon with fly-half Alex Tessier opting to kick to touch anytime a penalty came their way. The next score came from one such penalty kicked to touch for flanker and captain Poppy Leitch to collect the throw-in for a rolling maul and Orchard to go over for the try.
Despite being two scores down and their No 8 Tahlia Brody collecting a yellow card, Tigers still looked strong, not helped by Chiefs' indiscipline giving away penalties of their own. Having kicked a few to touch, centre Meg Jones opted for to kick at goal to open their account at to 3-10.
Then Chiefs started to build some momentum with some decent pressure that saw debutant prop Demi Swann bulldoze into the Tigers' 22 along with plenty of great running and passing from the rest of the team. However, it was another lineout and rolling maul that set up the next try for hooker Cliodhna Moloney.
But there was no time to get comfortable with a three-try lead. A sweet kick and collect just before half-time saw Jones through and her consequent conversion made the half-time score 10-15.
Half-time: 10-15
No sooner had the second half started and Tigers were back on the attack. This time Caz Collie squeezed down the wing and it was 15 apiece.
It was catch-your-breath time but a Leitch-Orchard combo in the rolling maul got the visitors back in front.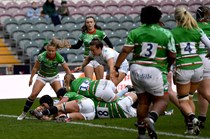 Tigers' wings remained threatening though and despite Eilidh Sinclair putting in a probable try-saving tackle on Fran McGhie, she came back for more just minutes later to make the score 20-all.
Replacements were beginning to come on at this point in the game and were making a difference, but not before another lineout-maul rumble gave Moloney the room to stretch her hand over the line. Chiefs' fifth try was converted by Gabby Cantorna.
Cantorna was the next try scorer on the board too, but not after a magnificent gallop from replacement lock Linde van der Velden set her up for glory. Were Chiefs finally turning the screw? In a word, "no"! Tigers' Becky Noon capitalised on some lost Chiefs possession in their 22 to bundle over. Jones' conversion made the score 27-32 with 20 mins to go.
Step up Maddie Feaunati and a powerful run that ensured Chiefs were back in the right area of the pitch. Quick hands gave replacement wing Claudia MacDonald enough space to dot down in the corner.
In the dying minutes, wing Katie Buchanan managed to dart over the line after a devastating rolling maul led by van der Velden.
It was a scoreboard that see-sawed for much of the afternoon, but Chiefs Women were never behind, and they were still able to take the win despite trialling new combinations and still getting used to each other as a new-squad. Points on the board.
Tries: Jones, Collie, McGhie, Noon
Leicester Tigers Women: Leicester Tigers Women: A Swatrz (T Feury 63mins); C Collie, M Jones, R DeFilippo (K Childs 70mins), F McGhie; N Jones (c), L Nye (A Relf 58mins); J Jones (L Bartlett 40mins), A Bainbridge E Martin (HT), O Ugiabge (K M Sagapolu Sanele 36mins), E Donaldson, R Noon (A Orrow 71mins), M Richardson, R McBrien (vc), T Brody (C Fray 33mins)
Cons: Jones (2)
Pen: Jones
Yellow card: Brody
Exeter Chiefs Women: L Cramer; E Sinclair (C MacDonald 55mins), M Doidge (vc), G Cantorna, K Buchanan; A Tessier, B Bradley; D Swann (A Middlebrooke 66mins), C Moloney, L Hanlon, N Fryday (L van der Velden 53mins), H Millar-Mills, E Jefferies, P Leitch (c), N Orchard (M Feaunati 53mins (C Neilson 76mins))
Tries: Doidge, Orchard (2), Moloney (2), Cantorna, MacDonald, Buchanan
Cons: Cantorna (2)
Referee: Holly Wood
Attendance: 801