Maunder making his own mark at the Chiefs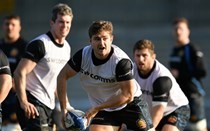 By Mark Stevens
9/9/20
Just like the name Baxter is synonymous with Exeter Rugby Club, so too the name Maunder is etched into the history books of the famous Devon club.
Andy Maunder, he who would do a forward roll every time he took to the field, is often referred to as a legend of the club.
His total of 149 appearances and 49 tries, plus his renowned half-back partnership with fly-half Andy Green, made him an on-field icon during the old County Ground days, as well as a former team-mate of current Chiefs head coach Rob Baxter for a number of seasons.
These days, Andy – who still oversees the family butchery business – is a Chiefs regular, watching sons Jack and Sam make their own way in the famous Exeter black jersey.
Like their father before them, the two brothers not only don the number nine jersey, but they have a speed of pass, a razor-sharp rugby mind, plus an eye for a gap that their old man no doubt would have honed in the garden back home.
Sam, the younger of the two siblings at 20, is still very much making his way within the senior game. Older brother Jack, however, is a key lynchpin in this current Chiefs side as they look to attack the remainder of the 2019/20 season on two major fronts.
Since making his first-team debut for the club against a star-studded Clermont Auvergne side in October 2016, the 23-year-old has come a long way.
Under the close guidance of Baxter, Ali Hepher and, most notably, Ricky Pellow, Maunder has certainly made his own name as an Exeter player, amassing 70 appearances and six tries to date.
Indeed, he laughs at that mere suggestion, replying: "There are still people out there who, all they talk about is, when my dad played and that I'm Andy's son."
True, his father was a cut above during his own playing days, but in this modern, professional era it would be wrong to not look at Maunder in his own right. Already in his career, he has helped the Chiefs to a maiden Premiership title in 2017, the same year he was also capped at full Test level by England on their summer tour of Argentina.
England head coach Eddie Jones saw enough promise in Maunder then – and he's not gone unnoticed since, drafting the gifted scrum-half back into his plans during March of this year when he was part of the training squad for the Six Nations Championship.
Since then, Maunder has put pen to paper on a new contract with the Chiefs and he remains one of those homegrown talents from which Baxter aims to build his rugby dynasty.
"Maybe it (England) came to early, but it was a great experience and I'm not going to say I wish it hadn't happened – it's every boy's dream to play for England," said Maunder, looking back on that England cap three years ago.
"Physically and skills-wise, I maybe wasn't ready for the season-long grind that is the Premiership and there were a few niggles that came from that, but I absolutely loved that tour of Argentina. It gave me that experience and it's something to strive for again day-in, day-out."
These days, Maunder is currently at the heart of Exeter's ongoing bid for silverware after reinventing his game to ensure he could reach the highest level.
Maunder explained: "I had a conversation towards the end of last season with Ali Hepher and Rob Baxter and they told me the two areas they wanted me to work on were box-kicking and strength. I'd been at university and hadn't been able to put 100 per cent of my energy in the right direction, but I went away and did a lot of work in the off season.
"Ricky, our skills coach, had a big part to play in that and we stripped my game right back to basics, working on my strikes and getting my footwork right. From there it's been about having that confidence in the process to get the ball where you want it to go."
Working in close tandem with Pellow and the talent pool of nines at the club, Maunder says it's only natural that his game is going to improve.
"As a group of nines, the training we're doing in the morning and after our main sessions, along with the skill work, it's all paying off. We're all improving, but personally there's still a long way to go and there are other kicks I probably need to improve on now."
As well as Pellow, Maunder admitted his close relationship with the now departed Nic White was another key tool in terms of his own development.
"It's never nice to see boys leave the club, especially mid-season like it has been this year," he added. "Whitey, though, was a great influence on me. I took a lot from him, just in terms of his confidence, the way he trained and the way he worked.
"Equally, we've now got Sam Hidalgo-Clyne come in and he's been fantastic, so too have the likes of Stu Townsend, Joe Snow and my brother Sam. As a group, we're all driving one another along and it's bringing the best out of all of us.
"Ricky, though, is just unbelievable. What he brings is all I really know, but it's not until you step out of the environment or someone from the outside comes in, it just reaffirms how lucky we are to have probably the best skills coach in the Premiership.
"Whitey was good when he arrived here, but working with Ricky improved him again and that's how he got back into Test rugby. It's the same for all of us, every day he's out there working with us, improving us, and just making us become better players all the time."
And on the evidence shown since restart, it appears the hard work being put in by everyone at the Chiefs is bearing fruit.
"Obviously, things are different in everything we do, but in terms of rugby that block of hard work that the players and the coaches got through before we started playing again, it has really paid off," added Maunder.
"We've come back and the squad as a whole have just bought into everything we want to do. There was that public perception that the two away games against Bristol and Northampton were us putting a second team out, but if you saw those two performances they were probably two of the best we've put in all season.
"As a group, we don't see it like that in any shape or form. We're all in this together and that's how we're driving one another each time we train and each time we play. We've got some huge games coming up on the horizon, so it's imperative that we all play our part and get the best out of one another.
"As Rob has said to us, we don't want to waste a minute between now and the end of the season. Every time we step out there it's a big game, so we have to cherish it for what it is. We've got to improve, minute by minute, day by day."