Mumm gearing up for Arctic trek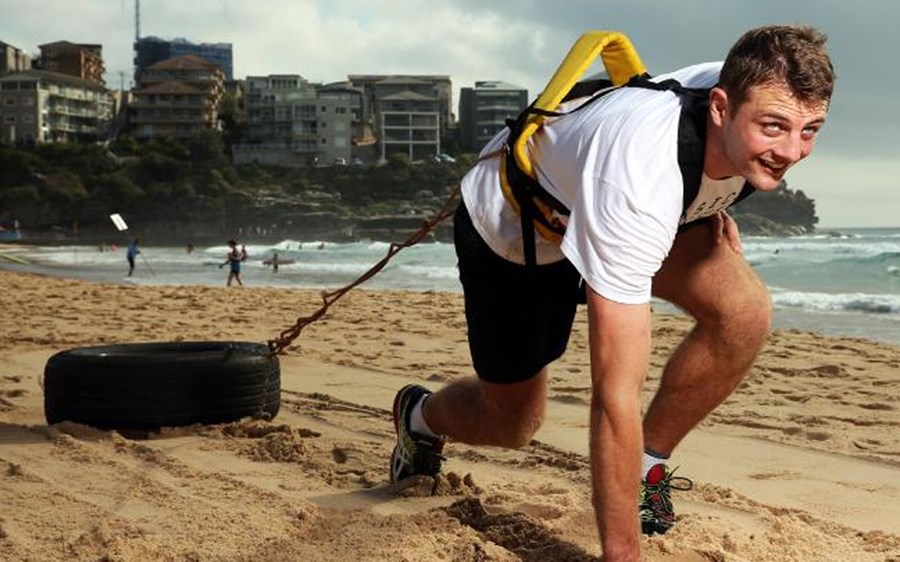 By Daily Telegraph Australia
7/3/18
For months, Dean Mumm has been dragging car tyres across Sydney beaches, building up the strength needed to survive a trek to the North Pole in April.
Surviving the bitter cold, frostbite, polar bears and dangerous ice cracks that can open without warning? Those you can't prepare for.
For most of us, a round trip to the North Pole would firmly qualify in the toughest-thing-ever-done category.
But not Mumm.
Not even close.
The North Pole is a comparative piece of cake for the former Wallaby forward given the heartbreaking journey he and wife Sarah endured in their efforts to start a family.
After he took his playing career to Exeter Chiefs in 2013, their joy in expecting a first child was shattered when daughter Sophie was born prematurely at 21 weeks and didn't survive. Tragically, the Mumms lost another child when they tried again.
A son, Henry, was born at 28 weeks but only lived for nine days before succumbing to an infection.
With incredible strength, the Mumms persisted and, after being put on to a leading obstetrician in London by former England rugby player Will Greenwood, they finally welcomed Alfie into the world in 2015.
Alfie arrived safely in the middle of the World Cup and required Dean to rush to London at 4am from the Aussie camp in Bath. Of all weeks, Mumm had been chosen to captain Australia against Uruguay a few days later.
The Mumms have since moved home and Alfie is now a happy, boisterous two-year-old working on potty training. But the memories of Sophie and Henry are never far away for the Mumms and so, a few steps down the line, we get to car tyres and the North Pole.
"If you have been in that moment and you've seen what happened and you've seen your son or daughter in a humidicrib, and some go on and live and some don't, you just don't want other people to go through it," Mumm says.
Too many do, though. About 15 million babies are born premature every year and more than one million will die, according to Mumm.
"What Sarah and I went through, sadly we are far from being alone with that sort of tragedy," he says. "You get to a certain point where you realise that and it doesn't make it necessarily any easier, but it means that collectively there is a duty to do something about it. If you can, and I don't have much of a profile, but anything you can do to make a difference to that and raise money for research, then it's obviously 'I am in. Sign me up'.
"Anything you can do to stop anyone go through this is worthwhile because you just don't want people to go through that."
Mumm became an ambassador for a UK premature birth charity called Borne, which was created by the couple's London obstetrician Mark Johnson.
In April, a team of 10 people, including Mumm and Greenwood, will depart on a trip to the North Pole to raise money for research.
Mumm's goal is to raise $500,000 to fund an Australian research fellow to work in London and Newcastle for three years.
A recent dinner in Sydney raised almost $150,000 and while "it was a bloody good start", it wasn't enough to stop Mumm slipping on the tyre harness, or hitting the phones to source a travel insurance policy with a deal on Arctic helicopter rescue.
Mumm's party will leave London on April 5, spend four days at a cold-weather training base in Norway and then head to a remote Russian base on the edge of the ice floe.
Somewhere in between Mumm will have to learn how to cross-country ski — well enough to pull a 40kg sled — and then they'll set off on a 100km, five-to-six-day journey to the pole.
The trip is only possible one month a year. What could possibly go wrong? Mumm has a list. "Obviously the cold,'' Mumm says. "Frostbite.
"And polar bears, they don't often see them but they'll be around.
"And then the ice itself really. I read the other day and it freaked me out, the ice is only about three or four metres thick, which doesn't seem terribly thick. And it is constantly moving. It pops open and shut and fissures will open; that's probably the most significant danger."
When Mumm started researching the North Pole trip, the dangers jumped off the page.
But the reticence was quickly replaced by the excitement of a once-in-a-lifetime opportunity; a chance to not only help others avoid losing children but to honour Sophie and Henry, too.
"There is a responsibility thing in there because we have a responsibility to our kids, for Sophie and Henry who didn't make it, to now live our life to the fullest," Mumm says.
"You have got to make the most of what you've got, as a result of going through this experience. Life can throw some awful stuff at you so when you have a chance to do something amazing — and hopefully help others — you grab that."
* To donate: www.everydayhero.com.au and search "Dean Mumm". For more information, visit www.borne.org.uk