New challenge excites South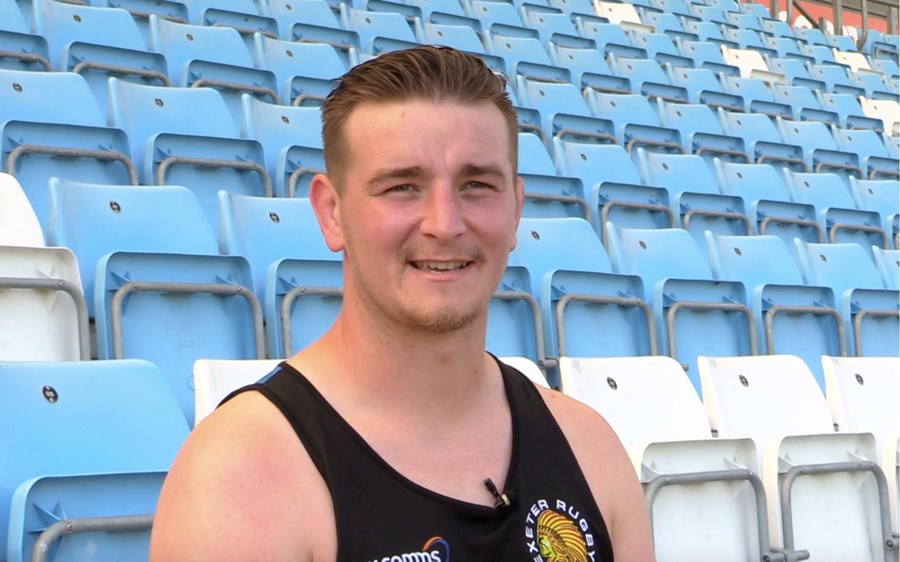 By Mike Smith
30/7/2019
It's been just under a month since former Harlequins lock Stan South first joined up with the Exeter Chiefs, but already he insists he's been welcomed with open arms as he looks to make an impression here in Devon.
As one of a handful of new faces brought to Sandy Park this summer by Director of Rugby Rob Baxter, the 23-year-old arrives in the Westcountry having spent the past four years at The Stoop with the London-based outfit.
Initially, South thought his rugby journey would be continuing with Coventry in the RFU Championship, but injuries to fellow new recruits Will Witty and Tom Price meant Baxter swooped to sign the former England Under-20 international to help bolster his squad options.
"It's been good, the weather's been on our side and the boys have made me feel really welcome and made me feel at home which is the best bit," said South.
"Trying to learn everyone's names with over 40 guys, that's one of the hard bits, but then also getting used to the terminology that everyone uses is another thing as well. It has, however, been a really good start and I'm enjoying every minute of it."
South's first introduction to his new team-mates was to be part of their annual overseas bonding trip, after which it's been fitness and preparing for the new season as the Chiefs immerse themselves deeply into their opening phase of pre-season preparations.
"Everyone knows that the Chiefs are a hard-nosed team," added South. "As an opponent, you know that you're not going to get any easy outs from them. That's what I want to bring to my game, so I'm looking forward to it."
Having been released by Harlequins following the culmination of last season, South was all set to drop down a level with Coventry, only for the Chiefs to then come calling. It was an opportunity not only to get back amongst a top flight club, but an opportunity the robust forward wasn't going to let pass him by.
"At first I thought I was going to have a set back, but then I got picked up again," he continued. "I'm hungry for it, I want to be in the Premiership, I want to be starting in it, so I've got to take every bit that I can."
With a change of schedule to the usual Gallagher Premiership start to the season, the 10-month season will now kick-off on September 21 with a Premiership Rugby Cup home clash with local rivals Bath Rugby.
"I don't think as many sides are using pre-season games this year so I think a lot of the teams will be using the prem cup as pre-season, which is a good place to show as well it's not low level rugby at all, it is just as high as the Premiership, but you've got to be pushing it coming into the new premiership season."
It's sure to be a culture change for South, after spending the majority of his professional career in South West London with Quins, he will now have to quickly adapt to the ways that the Chiefs coaching staff do things, starting with Pre-season training where the coaches have devised a tough but interesting schedule to get the boys ready for September.
"it's good to change it up, some of the boys are going into six and seven years of pre-season and if your keeping it the same then your not going to get the best results, so to change it up and make every week different is going to make it more enjoyable and less predictable, which is key to keeping the boys with the love of the game really,"
"You enjoy it and hate it at the same time, like you said it needs to be done and all the boys make sure that we come together and we're a team so we push each other through it and make sure that the best is coming out of us."