No complaints from Baxter after defeat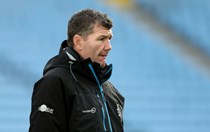 By Mark Stevens
3/1/21
Director of Rugby Rob Baxter insisted his Exeter Chiefs side would not press the panic button in the wake of suffering their first defeat of the season against Wasps on Saturday.
In a re-run of October's Gallagher Premiership Final, it was Wasps who prospered on this occasion, claiming their revenge with a 34-5 victory at the Ricoh Arena
Two tries apiece from James Gaskell and Simon McIntyre, together with 14 points from Lima Sopoaga, ensured it was a tough day at the office for the Devonians, whose sole response came courtesy of a second half try from Richard Capstick.
Post-game, Baxter gave a frank assessment of his side's performance, even refuting claims that Wasps had done anything to stick the Chiefs.
"I don't think we were shocked," said Baxter. "We didn't play well enough. There is a reality in rugby that it is a pretty honest sport and you tend to win games you deserve to win and you tend to lose games you deserve to lose.
"That is what I said to the lads, that is what today felt like. We didn't deserve to win because we didn't play well enough…..I have to say, 'Well done, Wasps'. They created issues for us today and capitalised on their opportunities way better than we did.
"They stopped us at times when we expect to be better and score and once the scoreboard opened up their capitalised on that as well. A lot of credit to them. Our job is to have a look at ourselves, but we are certainly not in any kind of panic.
"I'm not trying to find some sort of clever reason as to why we lost. We will look at the basics of the game and we will improve them…. You just want to approach them head-on and be honest about them and that is what we will do."
With Wasps leading 8-0 at the break, Capstick's try early in the second half appeared to offer the Chiefs the perfect platform from which to build. Sadly for them, it was the home side who rallied, running in four more tries to ensure all five points.
Next up for the Chiefs is this Saturday's local derby against visiting Bristol Bears, who themselves sit level on 20 points with Baxter's side at the top of the table.
That fixture marks the start of a testing few weeks for last season's double champions, who following the all-Westcountry affair at Sandy Park, then play host to Toulouse and travel to Glasgow Warriors in the Heineken Champions Cup.
Baxter continued: "We will take this slap in the face today and take it for the right reasons because a team outperformed us and beat us. I have no problems with that, we have just got to get back to work on Monday and try and beat Bristol next weekend who are probably smacking their lips together."We have got some nice challenges ahead. As far as we are concerned the Champions Cup is there to go for.
"The rest period we have put in place and the rotation we have used is kind of forced upon you. "You are not given much choice when you rest your EPS [England internationals] players. We choose to play them through the Heineken Cup games, but with the second game being cancelled we didn't get either with some players not getting the rest or playing for us.
"We have chosen to rest our other internationals as well to give them some time away, not because we had to but because it is the right thing to do. These guys have been going quite a long time since the finals and it is important we get some rest and rotation."