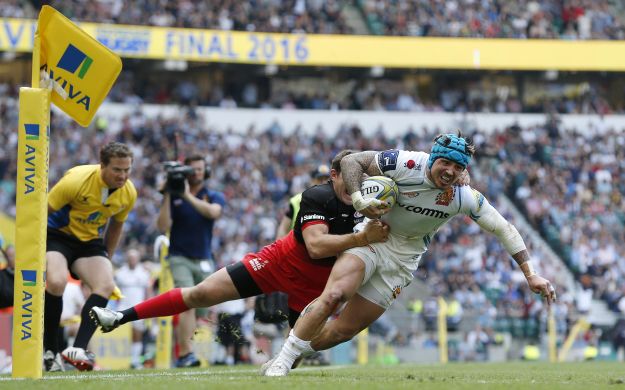 Pictures: Exeter Rugby Club/Pinnacle Photo Agency
By Mark Stevens
18/5/17
Having come a cropper at the final hurdle last season, Exeter and England star Jack Nowell is confident there will be no repeat showing as the Chiefs target a return to Twickenham this Saturday (2:30pm).
Twelve months ago Devon's finest reached English rugby's showpiece event for the first time in the club's history, going down narrowly on the day to rivals Saracens.
This weekend the Chiefs will lock horns with the defending champions at a packed out Sandy Park, the victors of which will be heading back to HQ in a week's time to face either Wasps or Leicester Tigers, who battle it out in the other semi-final.
For Nowell, the opportunity to help steer the Chiefs back to the grand stage is something he is clearly relishing, even insisting that the disappointment of a year ago - when Exeter lost 28-20 - will not act as an kind of extra motivation heading into this latest match-up.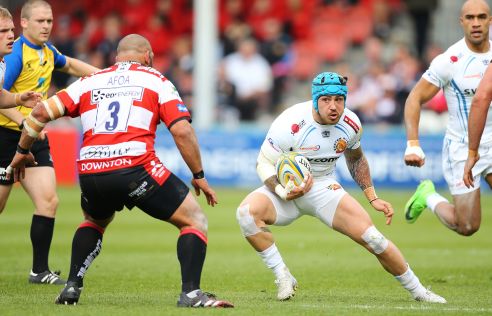 Instead, the gifted winger aims to lead from the front against a Sarries outfit, who last weekend reclaimed their European crown with victory ASM Clermont Auvergne at Murrayfield.
We've worked extremely hard to get into this position again and we're happy that we have Saracens at home – everyone says it's nice to have a home semi-final and we've worked hard to get that.
"It's not so much about last year, we've played them twice since then, so it's another game with a different atmosphere and it's awesome to be at Sandy Park," said the 24-year-old.
"Any match for us is massive, we've not looked too much at their record or things like that. What they've done in the last two years or so, even last weekend, has been awesome and it shows how good they are as a side.
"For us, we've been concentrating on ourselves and it's not so much about stopping someone, it's about going out and winning a game."
With home advantage and a 14-game unbeaten run to take into Saturday's showdown, Nowell knows the Chiefs could not be prepared any better in their mission to advance - and says the experience of featuring in last year's final will merely add to the excitement inside the home camp.
He added: "We did have the taste of that semi-final and the Twickenham final last year and, at the end of the day, the goal for us is to go there again but this time go one better and win. Every team in the Premiership is striving for that and we're not any different. It's going to be a big couple of weeks.
"We're a lot more experienced now. We've had a massive season this season and it shows how much better than we are last season by what we overcame at the start of this season.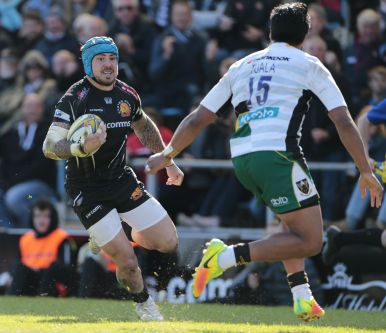 "We were a bit slow, a lot of people would admit that, but for us to still be in this position shows how hard we have worked towards the second half of the season. It shows how much it means to all the boys and the club to get in these final positions."
Following the season's end, be it at the hands of Saracens this weekend or at Twickenham a week later, Nowell will then be in preparation mode for his first ever Lions tour this summer.
A good performance on Saturday will surely be enough to give him a chance of making Warren Gatland's starting XV on the tour, but Nowell has banished any thoughts of his trip to New Zealand until matters in the Westcountry are resolved.
He continued: "Every game is an opportunity to put your hand up before the tour but, for myself, I've kind of put that to the back of my mind as the most important thing for me at the moment is what I can do in an Exeter shirt.
"Last year was a massive boost for me as a player to be in these final games, so I want to do it for Exeter and the boys that I play with – it would be very selfish for me to be thinking about what's coming this summer.
"First things first for me is that I want to go and try and win it with Exeter."