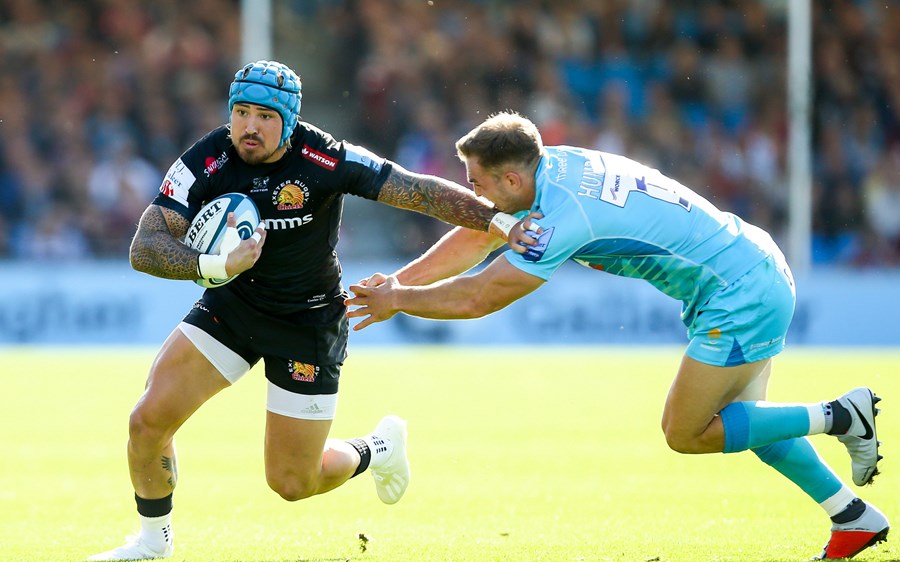 By Nigel Walrond
2/10/18
England and British Lions winger Jack Nowell is pleased to be back in action again after the injuries that blighted last season for him.
The 25-year-old Exeter Chief played his second game of the campaign in the hard-fought victory over Worcester after undergoing summer ankle surgery.
"It has been frustrating, and last season was a bit of a downer for me with a few injuries, but I am happy to be back out with the boys," said Nowell. "It has taken a long time to get there, but soon I will get my fitness back, and the only way you are going to get fit is by playing games, and the coaches have given me a chance to do that.
"It was also awesome to be back training with England last week, and it was good that the camp was in Bristol, an hour up the road rather than in London."
That camp saw a first England call-up for Nowell's Exeter team-mate, loose-head prop Ben Moon, after Joe Marler announced his retirement from international rugby.
"We have always said Moony is one of our quality players at the club and his England recognition has been a long time coming, and it was awesome for four of us from Exeter to go up to camp together," said Nowell, who was also joined in the squad by team-mates Harry Williams and Henry Slade.
Exeter have their opening Heineken Champions Cup matches against Munster and Castres just around the corner, but Nowell is looking no further ahead than Friday's night Premiership clash at Bath, when the Chiefs will have the chance to go through the opening block of league games unbeaten.
"We are in a good place at the moment and Bath is going to be another good test for us," commented Nowell.
"They are always a very, very good side, especially when they are at home, and for us we have to set a few things right in training that happened against Worcester.
"There are some big European games coming up, but it is important for us to finish this Premiership block on a high.
"We have started the season so well, it would be a shame to look past this last game against Bath. Those other matches will come, but the big test for us is Friday night."