Parkes ready to start new chapter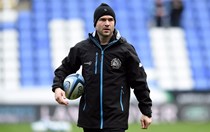 By Mark Stevens
12/7/21
A new chapter away from professional rugby awaits former Exeter Chiefs Strength & Conditioning coach, James Parkes, after nine hugely successful years with the Devon club.
Part and parcel of Rob Baxter's backroom staff since 2012, the 40-year-old is swapping life from overseeing the daily demands of 60+ professional rugby players for that of venturing into his new business, which is a new Corporate Well-Being platform, aimed at assisting employee's physical and mental health in the workplace.
In creating 'Evexia Wellness' – Parkes wants to help businesses address mental and physical health issues, removing some of the stigma that exists around the area. "We know that statistically only 25% of people with mental health problems will receive support each year and women are more likely to be affected by mental health conditions than men. We want to help to change these figures for the better. Workplace wellbeing is obviously essential for employees to feel valued and safe, but businesses can also gain returns such as staff retention, improved productivity, and creating direct links back to staff in order to understand what's really going on within a workforce."
Set-up earlier this year, the former Saracens, Gloucester and Leeds hooker is hoping to use his experience of playing and working within the game and transferring that into the public sector, through businesses both regionally and nationally.
"I'm looking forward to this next stage of my career," said Parkes. "Rugby has been a huge part of my life for so many years . The last nine years at the Chiefs in particular have been an unbelievable experience for me, incredible success alongside starting a family and learning how to juggle! However, the time has come for me to have a change of direction and I am going to use everything I have learnt from the players, staff, high pressure situations and family life and channel it all into Evexia Wellness."
A full launch of the company is due to take place in the coming weeks, but for those interested in find out more about Evexia Wellness, contact James at info@evexia-wellness.com