Pellow helps deliver coaching masterclass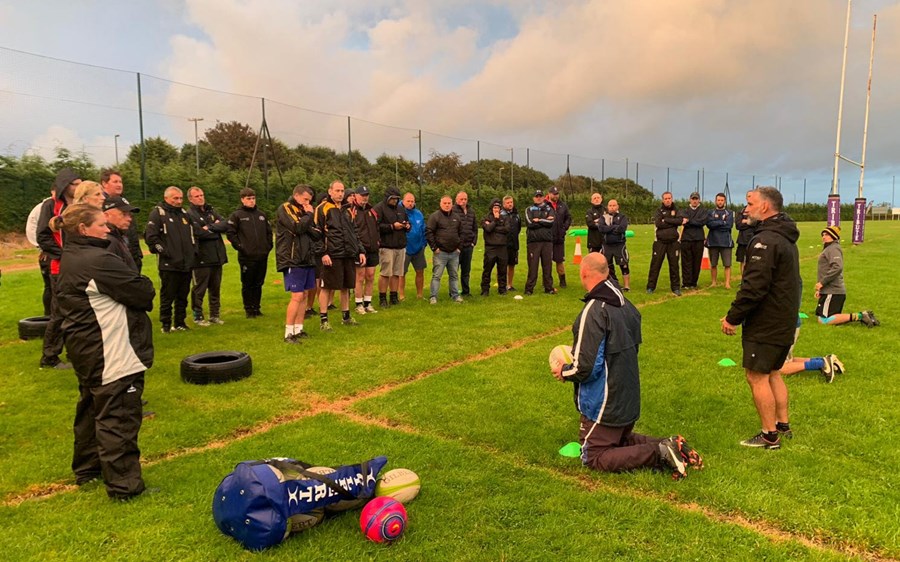 By Mark Stevens
10/9/19
Bodmin Rugby Club was the setting for the first of four Roadshows and DPP Inductions that the Exeter Chiefs will be conducting across Devon and Cornwall over the next month.
Academy staff met with parents and young players, who are aspiring to attend Developing Players Programmes this season. Coaches Marc Dibble and Ruairi Cushion provided information on the Pathway, Education, Opportunities and Parent Support offered as part of the programme, as well as providing some interesting "Myth Busters" regarding the system and pathway itself.
Around 40 coaches then attended a masterclass in skills development with Exeter Chiefs skills coach Ricky Pellow.
Back in his native Cornwall, Ricky spent 90 minutes demonstrating various exercises and skills which the coaches could then introduce to players at any level. Detailed passing drills, high ball skills, line-out receipt and balance skills were all greeted with huge interest, humour and appreciation form the energetic and highly knowledgeable coach.
Academy Manager Rob Gibson was delighted with the first roadshow, saying: "It was a very interesting, informative and useful meeting. The Academy Programme is continuing to grow and develop and this opportunity to go out into the community allows us to connect with Parents, Players and Coaches alike. We can only be as successful as our region allows and we are proud to be able to help local coaches develop".
The upcoming Roadshow details are below and bookings are essential and can be made through academy@exeterchiefs.co.uk
UPCOMING ROADSHOW AND INDUCTION DATES
Thursday 19th September – Launceston RFC
Coach Education 2 timings: 7.00pm – 8.30pm
Topic 2: Building and progressing the set piece Scrum & Lineout with Greg Holmes, Keith Brooking and Louis Tonkin
Monday 23rd September – Penryn RFC
Coach Education 3 timings: 7.00pm – 8.30pm
Topic 3: Back 3 Cover in defence and transition into counter attack with Ricky Pellow and Marek Churcher
Wednesday 2nd October – Tiverton RFC
Coach Education 4 timings: 7.00pm – 8.30pm
Topic 4: Breakdown skills and building a line-speed defence with Julian Salvi.
Developing Player Programme Inductions will be inside for players and parents of the DPP only.
Thursday 19th September – Launceston RFC
Induction timings: 6.00pm – 7.30pm
Monday 23rd September – Penryn RFC
Induction timings: 6.00pm – 7.30pm
Wednesday 2nd October – Tiverton RFC
Induction timings: 6.00pm – 7.30pm
Topics Covering
Pathway info (Who is who)
Player Induction for DPP
FAQ (Myth busters)
Why we coach like we do & what
Parenting a rugby player (Modern)
Education