Pitch Perfect for Georgie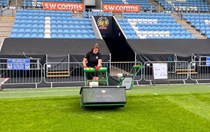 By Mark Stevens
3/8/22
When it comes to making a difference on the pitch, Exeter Chiefs Women's forward Georgie Grimes is doing just that!
Not only is she is part and parcel of Susie Appleby's squad chasing honours in the Allianz Premier 15s, but here at Sandy Park she is also part of the grounds team helping to maintain the club's numerous playing surfaces.
Now almost two years into her role, the 21-year-old forward combines training and playing with that of her day-to-day work, which came about as part of her initial Rugby Apprenticeship with the club.
"It kind of came about during the Covid period, we were coming in to the club to test and would have to sit in the stands and whilst we waited for our turn, I was watching Max and Adam working on the pitch," explained Georgie.
"At the time I thought 'I could do that' and now almost two years' later I'm part of the team that help get the pitch ready each week for games."
Working in varying conditions both overhead and underfoot, it's something Georgie has really taken to – particularly as she works towards gaining her qualifications in grounds maintenance.
"It's a busy role, but work are very good in allowing me the time to also train and play," she added. "Being able to have that apprenticeship was really good and it gave me the stepping stone I needed."
Now, Georgie hopes her efforts during the week are duly rewarded with featuring for the Chiefs, who will kick-off their new campaign in mid-September with the defence of their Allianz Cup crown.
"Pre-season training has been tough, especially down at the beach," she added. "As a group, though, we're looking forward to the start of the new season."