Question Time with Ali Hepher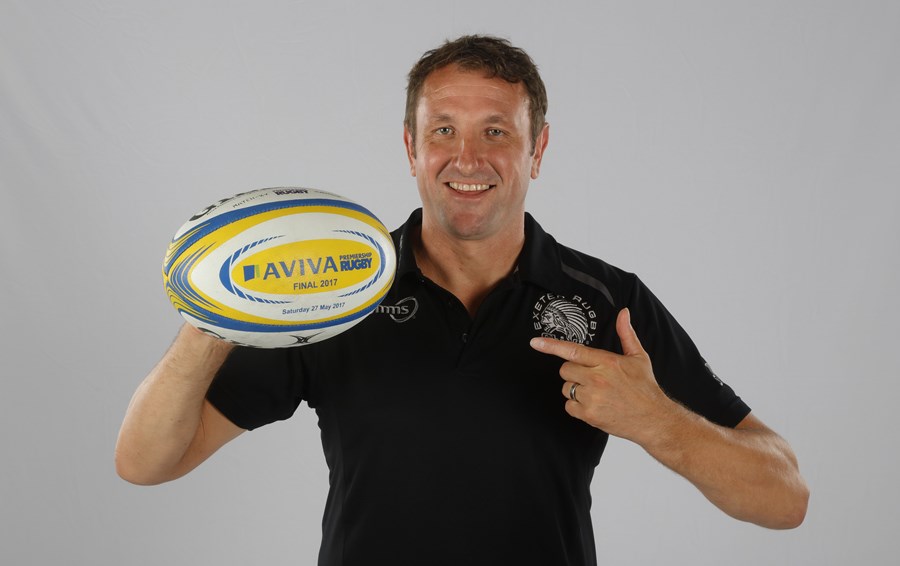 Recently promoted Exeter head coach Ali Hepher tells NEALE HARVEY how the Premiership champions are going about defending their title and why he believes the preponderance of overseas coaches in the Northern Hemisphere is a nonsense.
As Premiership champions, has your approach to pre-season changed at all?
It is a bit different. We had a lot more players away last year with the Saxons tour and a few guys coming in from Super Rugby, plus we have a slightly amended format because we reviewed last year's pre-season after we didn't make the best of starts. This year we've had a lot of guys in from the off and changed the rest weeks around, so the guys seem more focussed. We've moved on pretty quickly from May and the guys have a good appetite to be back on the pitch winning again.
You've been promoted to head coach, with Rob Baxter becoming director of rugby. Has that altered the dynamic at Sandy Park?
The roles are the same, we've just brought things more into line with how other clubs operate. Rob's been doing contracts and the DoR stuff while I was trying to drive the programmes day-to-day anyway. That doesn't change but the more important thing is to get the three-year contract. It gives you a little bit of security – not that you get much in this game, mind! – so we're just pleased to be at the club going forward at a very exciting time working with these players and coaches.
Has making you head coach been designed more to fend off interest in your services from elsewhere?
Nothing's come through to me and I'm not interested in any other role at the minute. I'm very happy here and excited about: a) working with a good group of coaches who work well together, and b) seeing how far we can go with these players. It's not an ageing squad which some winning sides can be, we definitely see there's a lot more mileage within the squad.
You coached the England Saxons in South Africa last summer. Did Eddie Jones speak to you about future international involvement?

Not at all. The Saxons thing came up at a good time, hence why Rob Baxter was very positive about putting me forward as head coach. I'm comfortable with the head coaching role and it enabled me to have a look at being the No.1. It worked out well and it was a great experience with a good group of players and staff, but I'm really keen to try and win as many domestic trophies as I can here and do well in Europe as well. That's my only focus right now.
Do you buy the theory that to be England head coach you must have overseas experience?
I don't think there's anything in that theory at all. Until you actually try a successful Premiership coach at the top end of the league in the England job, how can you rule out that it won't be successful or be more successful than an overseas coach? We don't know because, if you think about it, it's never actually been tried. When you look at the wealth of talent in England, as you've seen in Argentina and New Zealand this summer, it shows the quality of player coming through and there are a lot of talented coaches as well.
Do you get the obsession of Northern Hemisphere clubs employing overseas coaches?
I think it's crazy. It's like the Northern Hemisphere is almost doing its best to develop New Zealand coaches in their own sides! When you look at the Kiwi top job it's been filled by guys who've had international experience over here, but there's no way New Zealand would consider giving us experience out there to then come back and coach England, it just would not happen. It's for people up here to decide, I guess, but when you look at the English coaching talent coming through the Premiership, it's right up there.
So why don't we encourage our guys?
Looking back, you joined Chiefs when they were in the Championship in 2009. Why?
Rob needed an attacking backs coach and I was trying to be a Premiership attacking backs coach but knew I didn't necessarily have the name to be able to do that. I was coaching in Northampton's academy at the time and it was going to be hard for me to push on there, so I knew I had to move and the timing worked out really well. I needed to find a club that had the potential of getting into the Premiership and Exeter provided that.
In your heart of hearts, could you ever have believed Exeter would achieve what they have?
No, I don't think you look at that. I was initially on a two-year deal thinking we've got two years to get the club up and looking no further than that. You look back at the Bristol promotion game in 2010 now, though, and it changed all of our lives. It's like that in sport. Even then you don't expect to go on and win the Premiership, you just tick things off; get up, stay up and then it's about creeping your way up the league, which we've managed to do in small steps.
Your chairman and Rob have targeted the Champions Cup now, so no pressure there! Any qualms about stating such lofty ambitions?

Unless you actually put things out there, create dreams and ambitions and are thinking of the future, where do you go? Winning trophies is not something we talk about day-to-day because it's all about getting performances right, but the club has always been ambitious and I don't have a problem with that. You can't afford not to dream because if you just sit back you'll go nowhere.
Your summer recruitment is notable for its lack of big names, with perhaps only scrum-half Nic White and Matt Kvesic being renowned. How so?
It's more about improving the group than big names. If we think we've got more growth in guys, which we feel we have, we've got to keep pushing them on. Rob spends a lot of time looking at players and what they do on and off the ball, whilst myself and (forwards coach) Rob Hunter will have an angle on it, so it tends to work quite well. We know what we want and our conditioners do a fantastic job in improving players physically, so we sometimes even pull in guys who've maybe been written off elsewhere and get a lot more out of them.
White's arrival could cause a problem at No.9 as you already have Will Chudley and your young guns Stu Townsend and Jack Maunder performed magnificently last season?
It's a good problem to have and we've got a lot of talent in that foursome. Ultimately, we'll keep it simple: whoever plays best will get the shirt. Whether he's a 19-year-old kid or an established international, the best player plays and the competition will push the other guys to get better. Stu started the Premiership final while Jack got capped in Argentina so between them that young pair did fantastically well, but they've naturally still got things to work on and having Nic White here will give them new parts of the game to aspire to.
Thirteen of your 23 at Twickenham once played Championship rugby and you've again recruited from there in James Freeman and Toby Salmon. How important is tier two to you?
Hugely. The difficult thing with academies sometimes is it's kind of a rush to produce players and once they've had three years out of school they'll be 21. You're looking to make decisions and it's sometimes difficult, so the loan system and spotting late developers in the Championship are absolutely vital. Seeing guys week-to-week in a competitive league where they're not development games and results are crucial means the Championship is always a place we'll look at.
How proud were you to see one-time Penzance & Newlyn man Jack Nowell become a British & Irish Lion this summer?
I'm just so chuffed for the lad, who works incredibly hard. There's often a perception when you see Jack on the outside and a lot of people make judgement calls, but he's actually a very grounded young man and is smart in the way he goes about his rugby. He's almost the ultimate professional in the sense of covering off all his nutrition and his off-field stuff. He's probably had it as hard as anyone to have had to manage his knee when he just wants to play, but the medics have done a phenomenal job to get him to a stage where his knee is strong and he can go week-to-week, where at other places he might have struggled. He just deserves everything he gets and I'm really pleased with how he came through the tour after getting bagged harshly early on. He did himself, his club, the region and Cornwall proud, reaffirming that hard work gets its rewards.
Do you hope other Chiefs players will follow Jack's lead by breaking through with England now?
We want as many of our guys in the England side as possible. Ultimately, if they're at that level it means they're playing phenomenally well for us. We've got a few more on the fringe without too many jumping on, but they're young, they're working hard and they're ambitious so I'm pretty sure we'll see a few more knocking into that England side.
After an encouraging Argentina tour, how far away is Henry Slade from being an England regular?
Henry's got it all there for him now. There are little tidy-ups in his game but as an overall athlete and for creating time on the ball, there's not many like him in the country. He's already itching at it in training again and if he can have a good start he'll be keen to push into the autumn squad.
Position-wise it's still hard for Slade, though, with Gareth Steenson showing no sign of relinquishing Exeter's No.10 jersey?
We've got options and Sladey's equally comfortable at 10 or 13, where he can boss things in both positions, but primarily he just wants to play. We'll have to see how it all pans out with Sladey and England, but he's been pretty impressive at 13.
Looking at the wider West Country scene, would you say Exeter are benefitting from a 'virtuous circle' now having created close links with sides from Taunton through to Plymouth, Redruth and Cornish Pirates?
There are a lot of options for dual-registration and we've been lucky with having a system we can use quite well. We've got a nice balance of clubs that we can use at different levels. It's very much geared to the player and what his needs are at the time and, hopefully, we can place guys at the right place at the right time. We've always looked at it as a positive thing.
Pirates are looking at a new stadium and a Premiership future of their own. Would you welcome a challenge from further west?
You want ambition from clubs and ultimately what drives the game is competition. If the Pirates are going for it, they're challenging and there's a good brand of top level rugby on offer in Cornwall, I think it will be well supported. It's a great hotbed and there's fantastic enthusiasm for the game down here, so you need teams with that ability and ambition to do it. You've seen what's happened here, so good luck to the Pirates if they can pull it off.
Are you a big supporter of promotion and relegation?
It keeps the interest right the way through the season, doesn't it? If you look at the state of Super Rugby right now and see that sides aren't going to be relegated, that bottom half of the league pretty quickly gets switched off. You look at the Premiership, though, and there are so many different battles – top two, top four, top six and bottom spot – so there's something on pretty much every game and the competition as a whole just builds. It's a pretty strong product right now and most people think last season's Premiership was the most amazing they'd seen, so I'm not sure you'd want to change the dynamic.
As champions, Exeter will be marked men. Are you ready for that new challenge?
It's another learning for us that I believe will make us stronger and it's exciting to have everyone coming at you. No one's going to go into us sleepy, that's for sure! Our days of that had gone a little bit anyway but there'll be added spice for everyone now. But we're not going to wait to see what others throw at us, we're going to throw the first punches and it's up to us to make sure we start games in a strong position. The positives are: a) we've been there and are capable of doing it again, and b) the opposition know we're champions so they have got to be on it. If we can get on top of teams we can begin to turn the screw on them mentally a bit.
How important is the Champions Cup to Exeter this season?

We're all really focussed on getting beyond the Pool stage because that is the hardest part. If you get out of the Pool you give yourself a shot because then it's three games to win it, but in the first two rounds of Pool matches we've generally been pretty poor. We've got to make sure we're right on our game when those matches come around in October.
There have been a few law changes around the breakdown and scrum. Your initial thoughts?
They look pretty positive and they should probably clarify a lot of things for spectators and players. The biggest thing is it takes out the England v Italy scenario where Italy didn't contest the breakdown and there was basically no offside. As for the straight feed at scrums, I don't think it's the big thing people make it out to be. The positive is there'll have to be strike for the ball so perhaps it redresses the balance of the put-in, but if you spend all your time arguing about the put-in at the scrum you're missing the bigger picture of the game.