Restart win delights Baxter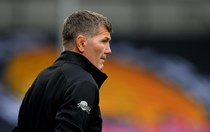 By Mark Stevens
16/8/20
Rob Baxter believes it will take a few weeks for his Exeter Chiefs side to get firing on all cylinders, this despite marking their return to Gallagher Premiership action with a 26-13 win over Leicester Tigers at Sandy Park.
After five months of inactivity due to the Covid-19 pandemic, the table-topping Chiefs wasted little time in picking up from where they left off, running in tries from Dave Ewers, Stuart Hogg and Luke Cowan-Dickie, plus a penalty try, to claim their 10th league win of the season.
George Ford stroked over a penalty and first half drop-goal for the visitors, whose other points came courtesy of a penalty try of their own after the break.
For Baxter, the Chiefs' Director of Rugby, getting off to a winning start was all that really mattered to him at the final whistle.
"I say this all the time, any point in the Premiership is an important point," he said. "A win is, of course, fantastic, but a bonus point win is as good as it gets. How ever you want to dress it up, how ever you want to improve, you can't get better than that.
"That was a challenge out there today. You only have to look at how long Leicester were in the lead for, yet we have come through with a bonus point win. That's been a key strength for us in the past and it was great that on our return it had stuck there, even though there was no crowd or any of that outside emotional help you normally get at games.
"To go 6-0 down, where everything seemed a bit of battle, to then come through with four tries, I think that shows some real mettle and a real positive of where we want to go this season. What I liked about us today was that we were prepared to dig in and fight, not lose our way, and stick to what the Exeter machine is all about. Eventually, if you drive it hard enough and you work hard enough within it, you start to get positive results and that's what we got today."
Although changes have been few and far between at the Chiefs, the visitors - under new head coach Steve Borthwick - have endured plenty of upheaval since March. However, Baxter was impressed with what he saw of the Tigers, particularly during the opening quarter of the match.
"I just said to Steve, I thought the way they warmed up, the way they were talking, interacting, they had lots of energy about them, it was all very positive," added Baxter. "However, I thought we did very well to come over the top of them in the end by sticking to what we do. Our subs did well, we defended well, and that meant it was never easy for them. In any game, that's the key, you have to make the opposition fight as hard as they can, and you have to fight as hard to get your points, and I thought we did those two elements very well."
Certainly, Baxter will have plenty of positives to build from when his side report on Monday for next week's trip to Sale Sharks. However, there will be certain elements of his side's game plan which can be improved on over the coming weeks.
"There's definitely more to come from us, but you can probably say that about any side this weekend," said Baxter. "It's going to take a few weeks before we're absolutely flying, but there was a lot I saw out there today which was very good. As I said, we were defensively very good and that in turn led to pressure on Leicester. Our set-piece was also strong and that laid the foundations for what was a cracking try from Hoggy in the corner.
"We also scored a maul try, a pick-and-go try, so it's good that we have different ways of scoring and challenging teams. Also, we were the more disciplined team and that counted come the end."
Next up for the Chiefs is a trek up the motorways to face a Sharks outfit, who marked their return with defeat away to Harlequins on Friday night. Baxter knows from past experience that Sale will pose a formidable challenge, particularly as they look to record a first win since restart.
"There won't be a tougher scenario than going to Sale on Friday night, particularly with them having lost last night," he warned. "What we know is, we are going to have to work extremely hard; we're going to have to roll our sleeves up; because we're only going to have one or two training sessions, a day off, then we'll be on a bus heading up to Manchester and chucking ourselves into Sale. Then, a few days later, we'll be chucking ourselves into Bristol, so it's all going to come thick and fast."