Sandy Park outlets to get new names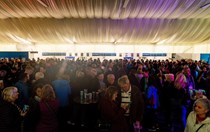 By Olivia Tomlinson
25/7/22
With our roots deeply entrenched here in Devon, we are using our new Exeter Chiefs rebrand as the perfect opportunity to rename our bars and catering outlets here at Sandy Park after some of the magnificent castles within the region.
Castles represent the history, grandeur, and pride we feel about Devon, and we wanted to transmit this on our award-winning match-days.
Our new branding already draws on the region's long and illustrious history, with Celtic and Iron Age England represented through theme of the Dumnonii Tribe. And the castles chosen span a huge period, from the hill fort, Woodbury Castle constructed in 300BC, to Castle Drogo, the last-ever castle built in the UK just over a 100 years ago.
Others such as Compton Castle can be found in the rolling hills of Dartmoor, Powderham Castle in the expansive Exe Estuary, as well as Dartmouth Castle in the vibrant portside town of the same name.
They are all much-loved landmarks, many cared for by the National Trust or English Heritage, and situated in stunning locations showing off the very best Devon has to offer.
And more importantly, fans will of course be able to take part in the usual match-day ritual of grabbing a pint and a pasty from any of these aptly-named spots.