Slade's gunning for glory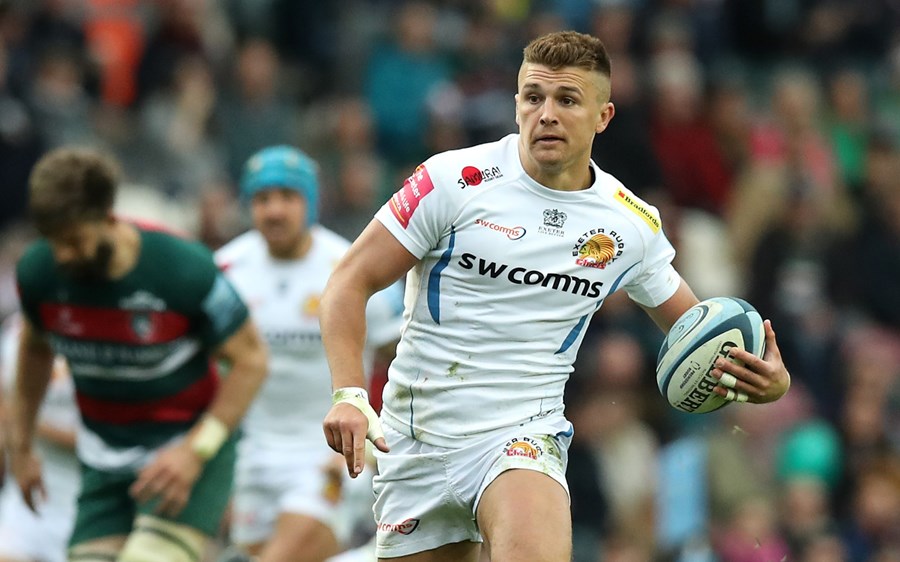 By Mark Stevens
11/4/19
There are moments in any players career that will live long in the memory bank.
For Henry Slade, leading the Exeter Chiefs into battle on his 100th Premiership outing is certainly one the 26-year-old will savour for some time ahead.
With a place in the end of season play-offs already assured for Rob Baxter's side in record time, the Chiefs could easily have rocked into the famous Tigers den with little purpose about them, other than to fulfil a fixture and coast their way over the final rounds of the regular season.
This current crop of Chiefs, however, have a different mind-set. Still feeling the hurt of surrendering their Premiership crown to Saracens at Twickenham last May, the Devonians have gone about their business this season with ruthless efficiency.
Other than a few weeks in second spot, Baxter's squad have perched themselves at the summit of the division for much of the season. They are – to all extent and purpose – a team on a mission!
Like the Chiefs, Slade himself has upped his game to a new level. Not only has he been an integral cog in the Chiefs wheel, but on the international stage the Plymouth-born playmaker has firmly established himself as the 'go to man' for England head coach Eddie Jones in his midfield.
Slade's effortless rise in standards is certainly timely, both for club and country, but the level-headed back is taking nothing for granted. Instead, he is determined to add to his growing on-field portfolio, helping to drive the Chiefs to more title glory, then hopefully further success in the Far East with England.
"Losing the final last season was massively disappointing for all of us," he said. "When you look at the three finals we've been in, the first one we were probably just glad to be there that day. The second, that was just an unbelievable experience. Last season, though, that was just heartbreaking.
"I remember sitting in the changing rooms after the game with the boys and I think we all said to one another that we don't want to feel like this again. This season, it's like we've come back – not necessarily with a point to prove or a chip on our shoulders – but we want to go back and go one better again.
"I know from the final against Wasps, winning the Premiership with your mates, there really is no better feeling and I want to experience it all over again!"
True to their word, the Chiefs have certainly gone about their work in fine fashion, a point underlined with last weekend's 52-20 humbling of Leicester Tigers, which included a first half score for Slade in a seven-try rout.
"Not many sides go to Welford Road and put 50 points on Leicester," added Slade. "I think that speaks for itself what we did up there. Up against a top Leicester side, full of international players, to put in a performance like we did shows how far we have come and how well we are playing.
"As a group, the way we turned up, the attitude we showed, then the way we played, it shows how good a place mentally we are in right now. We had our place in the play-offs already sorted, so we didn't necessarily have to go there and win, but that's not what we are about. As a side we want to keep getting better, keep improving, and that's our aim between now and the end of the season."
Since making his Premiership debut against London Irish back in 2013, Slade is the latest Chief to join the club's famous '100 Club' – meaning he has featured in exactly half of Exeter's game in the top division.
"It's come round pretty quick," admitted Slade. "I didn't really know anything about it until Yenz's [Jack Yeandle] said in the week about me leading the team out at the weekend. I thought I had told my parents before the game, but I obviously didn't so my mum was a bit emotional after the game.
"Having them up there, especially with it being an away game, was pretty special though. To say I've played half the games in the Premiership is also pretty cool. We've made some big strides in the last few years as a team and we've established ourselves as a top side in the league."
And it's that development, both on and off the field, that more than encouraged Slade to recently pen a new contract with the Chiefs.
"I've never experienced anywhere else, but the Chiefs is a brilliant club, a brilliant set-up and it meets everything I want," he said. "We have people come here from elsewhere and they say the whole set-up is as good, if not better, than where they have been before, so it's good to here from others that this is the place to be.
"Personally, I love coming into work every day. Being alongside your best mates, doing the job you love, it doesn't get any better, so to have that and those other comments, it kind of cements my view on how awesome this place really is."