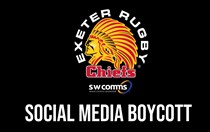 By Mark Stevens
29/4/21
Exeter Rugby Club, Sandy Park and our sporting teams will join Premiership Rugby and our fellow top-flight clubs in uniting for a social media boycott from 3pm on Friday, April 30 to 11.59pm on Monday, May 3, in response to the ongoing and sustained discriminatory abuse received online by players, staff and officials connected to the game.
In adopting this stance, everyone connected with the club and our business wish to demonstrate a collective stance and solidarity in a hard-hitting message that online abuse - in whatever form it takes - will not be tolerated and should be actively prevented.
As a collective, we recognise the considerable reach and value of social media to both our sport and our business, particularly with the connectivity and access it gives to all of our supporters and customers on a daily basis.
However, the scheduled boycott will demonstrate how not only ourselves, but also the other Premiership Rugby clubs, together with leading teams and authorities from across many other sports, can come together to emphasise that social media companies must do more to eradicate online hate, while highlighting the importance of educating people in the ongoing fight against discrimination.
During the period of the boycott, we can confirm nothing will be posted across either the Rugby Club's or Sandy Park's Facebook, Twitter, Instagram, LinkedIn, YouTube or TikTok accounts.
At the same time, we urge our supporters, fans groups, partners and stakeholders to also back the boycott.
Exeter Rugby Club chairman and chief executive, Tony Rowe OBE, said: "Sadly, social media has become a platform for a certain element of society to vent abhorrent and continual abuse to people or organisations across various walks of life.
"It's simply unacceptable that people across rugby union, sport and society more broadly continue to be subjected to discriminatory abuse online on a daily basis, with no real-world consequences for perpetrators. This needs to change quickly, and we continue to urge social media companies to act now to address this.
"As we are acutely aware, social media does have a place within our modern-day lives - and it has been particularly powerful during the events of the past year or so, where it has helped people deal with the effects of the Covid-19 pandemic. However, it cannot come at the expense of respect or human decency.
"Whilst we appreciate the boycott is a significant step in the right direction, a great deal of work in this area is still needed and we urge the UK Government to ensure its Online Safety Bill will bring in strong legislation to make social media companies more accountable for what happens on their platforms."
If you have suffered online abuse, you can report it here: