Newcomer can make real impact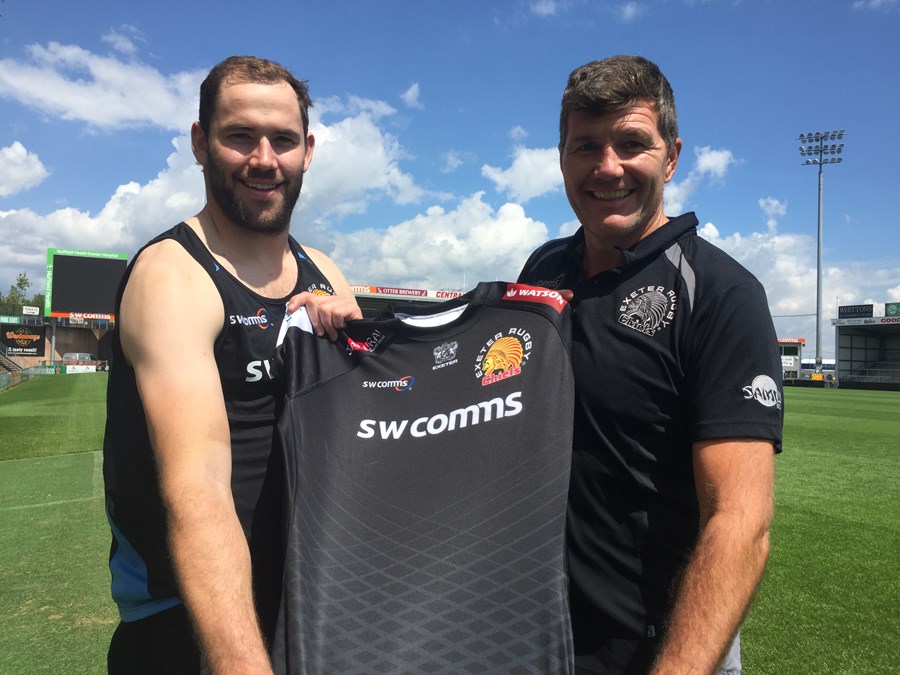 By Mark Stevens
26/7/17
Exeter Chiefs Director of Rugby Rob Baxter believes new signing Wilhelm van der Sluys can make a real impact after this week agreeing a move to the Aviva Premiership champions.
The imposing South African lock heads to Devon from Super Rugby outfit, the Kings, on an initial one-year deal.
Brought in to help bolster Exeter's back five stock, Baxter says he likes what he sees of the 25-year-old forward, who came through the youth system at Western Province, where he helped them to lift the Currie Cup in 2012 alongside current Chiefs star Don Armand.
In welcoming van der Sluys to Sandy Park, Baxter said: "Obviously we're delighted to have Wilhelm sign and be on board for the new season. He's been playing Super Rugby a lot this season for the Kings and we've watched a lot of his games and like what we've seen.
"I think with Dave Ewers still injured and having lost both Geoff Parling and Damian Welch at the end of last season, it was important we looked at our options.Yes, we have a number of players already here at the club, but at the same time I was also a little concerned that we might be starting to ask a bit more of people like Don Armand and Dave Dennis to feature in the second row as well as in the back-row.
"When it's like that, I think it's important – especially the way we play and how attritional games can be – that we have good strength across the back five of the scrum. As I said, there was an opportunity to bring Wilhelm in, we've watched a lot of his games, and he ticks a lot of boxes for us."
Baxter added: "Like any player we bring in, we've done a fair bit of research on him and we've spoken to a few people, but what is clear is that he possesses a lot of good qualities and has a lot of the attributes we look for when we want to recruit a player.
"He's got a high work ethic, he gets around the pitch well, he can stand as a first receiver and create a bit of width, and he can run a line-out as well. The fact that he's coming off the back of a Super Rugby season means it shouldn't take him too long to get up to speed and ready for our pre-season games."
A key performer for the Kings last season, van der Sluys has previously had a brief stint in the Premiership with Worcester Warriors before he headed back to his homeland.
Signed on a year deal, Baxter has every confidence that should the player deliver both in training and matches, there is every chance his stay with the Chiefs could be extended in the future.
"Although it's only an initial one-year deal, I'm pretty hopeful it can lead to even better things moving forward," said Baxter. "Obviously that will be down to Wilhelm and how much work he can put in, but at the same time we can see some good developments we can make not only to his game, but also his physical development as well.
"We've not signed him as a big 130kg forward who is just here to lock down a scrum and amble around the field, we've brought him in to come and play plenty of rugby, get around the field, and make a real impact."
With van der Sluys now in place at Sandy Park, Baxter says it's unlikely there will be any more new arrivals before the start of the season.
"I'd say that is us pretty much done and dusted unless something crops up in terms of an injury," continued the Chiefs coach. "As always, you'll assess the market and what's happening there, but I think we are where we need to be at this stage."