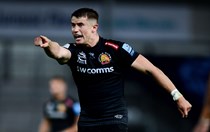 By Mark Stevens
20/2/21
Having waited patiently in the wings, Harvey Skinner admits he's more than ready to deliver on the big stage when he lines-up for Exeter Chiefs in today's Gallagher Premiership clash against visiting Northampton Saints.
With seasoned cast member Joe Simmonds still feeling the effects of last weekend's league tussle with London Irish, the 23-year-old playmaker will be thrust into the spotlight from the outset against Chris Boyd's side for his first league start of the season.
It's rich reward for the Taunton-born fly-half who, having seen the long-serving Gareth Steenson move into the coaching ranks at the start of this season, is now relishing the opportunity to be a long-standing member of Rob Baxter's first-team production moving forward.
"I'm loving every minute," he said. "Obviously, Steeno has moved on in terms of the squad, but he is still here and someone who I can still learn a lot from. Together with him, Ali [Hepher] and Joe himself, they are all people I can talk to and just help add to my game."
A product of the club's previous links with Bicton College, Skinner was identified at an early age as a player of real promise. Academy manager Rob Gibson liked what he saw of the gifted No.10 and it wasn't long before he was introduced to the Chiefs properly as one of their first clutch of apprentices.
Combining life at Sandy Park with competitive playing roles at Plymouth Albion, then the Cornish Pirates, Skinner continued to blossom in his new surroundings.
"You have to do that work at that level," he added. "Plymouth was a good starting point because it gave me regular game time and a chance to see how I could deal with playing at senior level. I played both 10 12 and 15 down there, so I got to see the game from different angles.
"I then went down to the Pirates and that was a step up again. Being down there, playing in the Championship, which is a tough, physical league, it helped me a lot. Then, last season I got my chance in the Premiership which, not surprisingly, is another step up again. It's a lot quicker, it's more physical and if you're not on your game, you soon get found out!"
Skinner, though, is someone who appears to take things in his stride and having returned from last year's lengthy lockdown in fine fettle, he was ready to play his part as the Chiefs looked to attack the remainder of the 2019/20 season on two fronts.
He figured in notable away wins against both Bristol Bears and Northampton Saints – and by the close of the campaign had added more invaluable top-flight minutes to his playing CV.
"Those midweek games especially were great for us as youngsters," he continued. "Teams were changing up every game, but for some of those games we were coming up against frontline teams. As a young player, you want to be playing against the best teams and the best players, just because it brings the best out of you."
Using those performances as a springboard for the current campaign, Skinner is growing in confidence by the week and his second half display against the Exiles last weekend underlined the growing faith that the Exeter coaches now have him.
With that faith, however, comes an expectation to perform whenever you are called upon.
"Where the club is now, of course there is pressure on you to perform," says Skinner. "We won back-to-back titles last season and we want more success. It's tough for a young player coming in because you are expected to hit those same high standards every week. It doesn't matter if it's in training or in games, you have to deliver. The competition amongst the squad is huge, but it's only going to make you better and improve."
Certainly, the Chiefs have demonstrated in recent weeks that they are rediscovering the type of form that made them so hard to overcome last season.
Skinner says the enforced Covid break, combined with the opportunity to reset matters, both on and off the field, came at a perfect time for him and his team-mates.
"All we really talked about during that time was what makes the Chiefs great," he explained. "We talked about our line-speed, tempo in our game and bringing that physicality each time. It wasn't like we started doing anything new and different, we just focused on what we do well and you've seen with the performances since that we're back where we want to be.
"Our last three performances have been a lot better, more of what we expect from ourselves, and now it's a case of building on that as we move forward."
And the next opportunity for the Chiefs is the visit of the Saints to Devon this afternoon. Skinner knows from past experience the threat posed by Boyd's side and has warned that the Chiefs can ill-afford to take their rivals for granted.
"Northampton are fifth in the table and they are chasing that top four," he said. "A win here and they'll be in that top four, so we've got to be ready for them. We're in the middle of an eight-game block, which we've split in two blocks of four. So far, we've gone alright, but we've not hit the points tally we want from that first block.
"The challenge is there for this weekend and then it will be up to us to go again and set our sights on that next block."