Gruelling team challenges at River Dart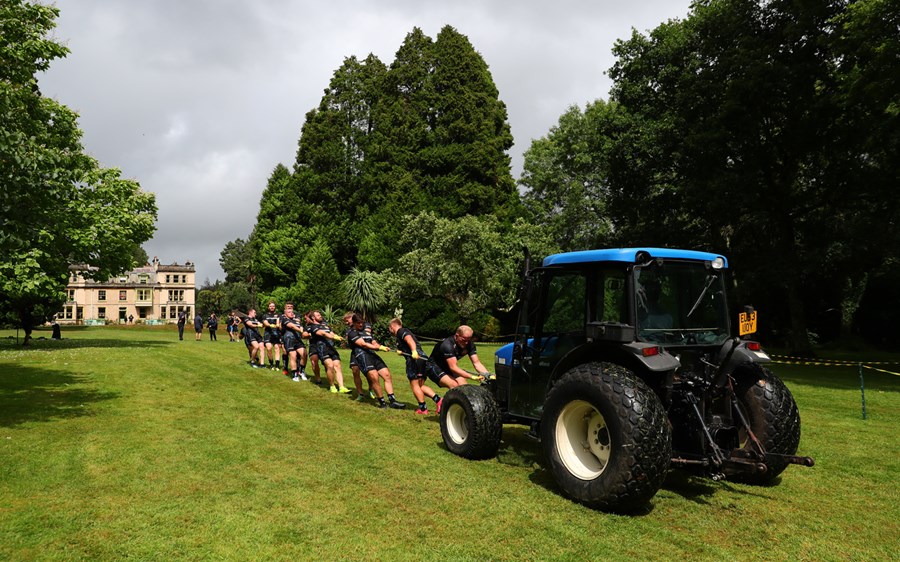 By Mike Smith
12/8/19
With tractor pulls, log loads, the 'Tower of Hanoi' and 'Jacob's Ladder', it's safe the say that the Exeter Chiefs squad were put through their paces on Friday when they visited the River Dart Country Park.
The day of gruelling activities brought to a close the first half of pre-season training for the 2019/20 season, which has included a number of challenges designed to test the squad both physically and mentally.
On Friday, the players were split into four teams to complete five tasks as many times as possible within a 20-minute period, including the 'Log Load' challenge where teams had to load up a dinghy with logs, walk the dinghy through the log and up the bank, before taking out the logs and going back to starting point to start the task again.
Having previously visited River Dart Country Park with the, Exeter Chiefs Strength and Conditioning coach James Parkes knew that it would be the perfect location for the activities planned.
"It's the perfect venue for our off-site pre-season activities" said Parkes. "When planning the training schedule we knew that River Dart would be able to accommodate our large party. Roger Sell and the team at River Dart Country Park have been first class in creating an environment away from Sandy Park to put the players out of their comfort zones, giving us a great chance to see how they react under real pressure in a different environment.
"As on our last trip here, we found the team well organised. They left no stone unturned into preparing the area that they freed up for us and a huge amount of thought went into making sure that the day would work well for us to test the guys, whilst enjoying some of the beautiful surroundings that they have to offer."
The Exeter Chiefs squad are now having a short break before they return for the final stint of pre-season training in the lead up to the 2019/20 season, which kicks-off with Bath's visit to Sandy Park in round one of the Premiership Rugby Cup.
Tickets for all confirmed games including the season opener against Bath are now on sale via the Exeter Chiefs Ticket Hub.