Team announced for Chiefs' inaugural PWR fixture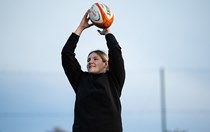 Exeter Chiefs Women will kick-off the inaugural Allianz Premiership Women's Rugby league competition with a blend of new, young and experienced players, along with several returning internationals.
The new nine-team PWR begins this weekend with Chiefs Women travelling to Mattioli Woods Welford Road on Sunday (KO 15:00) to take on Leicester Tigers Women, who were their last opponents in the Allianz Cup.
Returning from WXV duty are Australia's Lori Cramer, USA's Gabby Cantorna, Ireland's Clara Nielson, and England's Claudia MacDonald. Canada's Alex Tessier will make her debut for Chiefs at fly-half.
The team also features new loosehead prop Demi Swann, who has also recently returned from Scotland's WXV camp.
However, head coach Susie Appleby has selected many of the young players that performed well in the cup games with young English players Kate Buchanan and Niamh Orchard starting, and Hannah Sams and Sophie Langford on the bench.
Chiefs fans will have to wait a little longer to see Maisy Allen, who made her debut for England at Sandy Park back in September, USA back-row Rachel Johnson, and Canadians Emily Tuttosi and DaLeaka Menin back in domestic action.
Appleby said: "We have selected a team based on what suits us and what suits the players. We wanted to get a couple of combinations going, such as Tess (Alex Tessier) and Gabby at 10 and 12, but also to give payback to some of the youngsters. Hannah Sams, for instance, will make her league debut at just 18 years old. These 18 and 19-year-old players are the future, and we will continue to layer them in while they play in the college and BUCS leagues too.
"We are giving Maisy another week. It has been a full-on tour for her. Same for the Rach, Emily and Daleaka. They had a lot of game-time.
"Tess may be making her debut, but she spent 10 days with us before she went to WXV. She is world class; super smart, very quick and makes good decisions based on the picture in front of her. I have been after her for a while and having played in France, I am delighted the time is right for her to join us."
Tessier said: "It's super amazing to be part of an incredible team. I am super thankful to be here and to have this opportunity finally.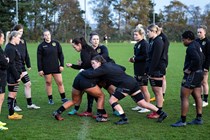 "I made the decision to make this move this year…and hopefully it will work out for me and the team. I am excited to be in one of the best leagues in the world and I have been impressed about how the girls have been putting in the work on and off the pitch."
Aside from new, young and returning international players, there is an experienced backbone running through the team that includes captain Poppy Leitch, Nichola Fryday, Lizzie Hanlon, Ebony Jefferies, Harriet Millar-Mills, Cliodhna Moloney and Eilidh Sinclair, who all played through the cup stage.Appleby added: "They are our bread and butter. Poppy, in particular, is our glue. She does everything right and is very much our leader on and off the field. Brooke Bradley had a great return to the shirt, and we are looking to her to be that leader at nine. It's also a massive bonus having Merryn (Doidge) back."
"This is an exciting team who are raring to get going and we are really excited about the game. Leicester have 10 internationals returning so it should be a good contest."
Exeter Chiefs Women
15 Lori Cramer
14 Eilidh Sinclair
13 Merryn Doidge (vc)
12 Gabby Cantorna
11 Katie Buchanan
10 Alex Tessier
9 Brooke Bradley
1 Demi Swann
2 Cliodhna Moloney
3 Lizzie Hanlon
4 Nichola Fryday
5 Harriet Millar-Mills
6 Ebony Jefferies
7 Poppy Leitch (c)
8 Niamh Orchard
Replacements:
16 Clara Nielson
17 Abby Middlebrooke
18 Hannah Sams
19 Linde van der Velden
20 Maddie Feaunati
21 Olivia Ortiz
22 Sophie Langford
23 Claudia MacDonald