There's a deep hunger says O'Flaherty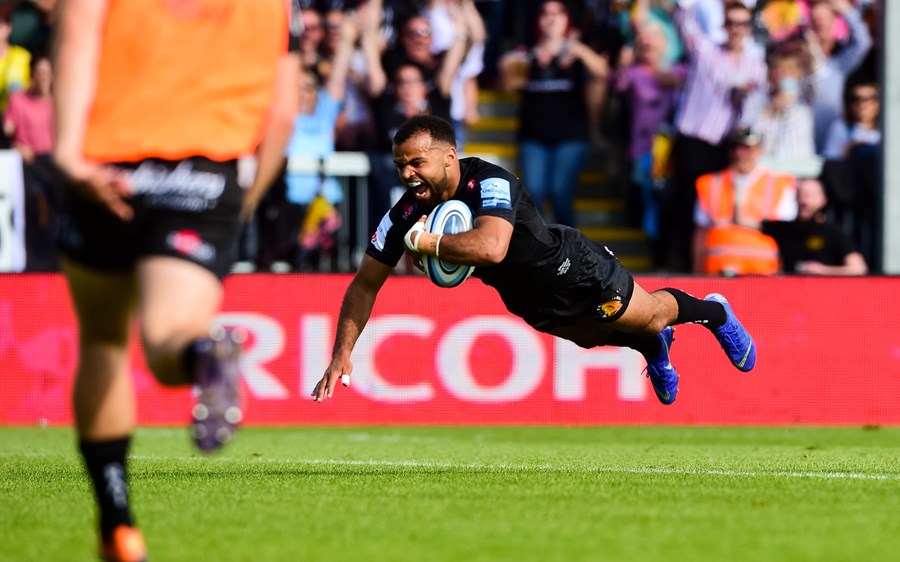 By Mike Smith
7/8/19
It was seven minutes into the second half of the Gallagher Premiership semi-final when Tom O'Flaherty received the pass that led to a superb solo try, putting the Chiefs on course for their fourth consecutive Premiership Final at Twickenham. Just over two months on and O'Flaherty is mid way through the club's gruelling pre-season training schedule.
The players can now look forward to a short rest period following their first month of training, however O'Flaherty says that his teammates have come back in great condition after their post Twickenham break.
"It's been pretty tough so far. Obviously pre-season is always pretty hard but every one has come back pretty fit. I think that moving forward after our break it's only going to get tougher; we will be practicing our new ideas as well as putting some miles into our legs whilst practicing our new moves and ideas. There's a lot to take on board and also a lot of hard graft so it's a good challenge," said O'Flaherty.
On the arrival of six new players to Sandy Park O'Flaherty commented: "I think there's competition in every place in the squad which is obviously conducive to a good environment and obviously a good team, so I think it just adds to our strength in depth. Jannes has only been here for a few days but he seems like a lovely bloke and I'm sure that he'll fit in well.
"Everyone has come back from the break with a deep hunger and drive to push forward, everyone came back in good nick and you can see it already in training that things are ramping up and there's a lot of fiery competition, so I think everyone has that hunger and the will to go that one step further. Obviously that's a long way away at the moment but we've just got to start laying the foundations now," he continued.
Rob Baxter and the other coaches at the club have alluded to the drive that the squad are showing to push on and challenge in Europe as well as domestically next season, something that O'Flaherty agrees is within touching distance.
"We've just got to keep working hard really and it's probably that one or two percent that we need to push on and progress in competitions like Europe - the margins in those competitions aren't big and every team in there is a top quality team. We've just got to keep doing what we're doing here and also adding the extra few percent on top and hopefully we can have some success."
With the Gallagher Premiership not starting until October, the season will kick-off with the pool stages of the Premiership Rugby Cup. First up for the Exeter Chiefs will be a visit from Bath on Saturday, September 21st (3.00pm).
"We've obviously got a longer pre-season ahead and we don't have any pre-season friendly games, so the Prem Cup will probably act as pre-season games for us. It's an attribute to the squad that we have lots of good players in different positions. Obviously throughout the season the squad's strength in depth will be tested but this year maybe it'll happen earlier on, we will just have to deal with those challenges as they come." said O'Flaherty.
"You can never tell how the season will pan out but last year it was obviously close, there wasn't much of a margin in that middle section of the table so everyone was fighting tooth and nail for everything. I wouldn't be surprised if it was similar again this year, but we will just have to wait and see."
The first Premiership Cup game at Sandy Park is against Bath on Saturday, September 21st (3.00pm). Tickets for this fixture are available at the Exeter Chiefs Ticket Hub.