White's sales pitch sells Chiefs to Walsh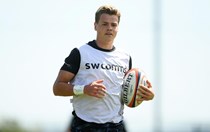 By Neale Harvey
2/8/20
Ambitious Aussie No.10 Jack Walsh says his decision to join Exeter rather than pursue a career in Rugby League was made easy after a chat with former Chiefs favourite Nic White.
Former Waratahs academy playmaker Walsh, 20, arrived in Devon earlier this month on a mission to learn his trade in the Premiership after being courted by NRL side Cronulla Sharks.
Explaining his surprise move, Walsh, who qualifies for England courtesy of his father, said: "I was with the Waratahs and was tossing up what I wanted to do because I'd played a bit of league growing up and obviously NRL is a lot more prominent in Australia.
"It was Cronulla Sharks I was going to sign with but Exeter were interested and when I spoke to Nic White, who has the same agent, he couldn't recommend the place highly enough.
"Nic was sad to be leaving but gave me a lot of info, saying what a great place it was for a young rugby player to learn the game and develop. I'd followed the Premiership and was aware Exeter were one of the top teams, so when Nic said it was a good place to be, that was it really.
"My dad was born in England, which obviously helps, so I've got a year here to come in and work hard and see what the club thinks of me. I've already been in the ear of Gareth Steenson for as many kicking tips as I can get and there's nobody better for me to be learning off."
With Steenson retiring at the end of this season to take on a coaching role, Walsh has a golden opportunity to challenge Joe Simmonds and Harvey Skinner for a first team spot.
However, as a running fly-half brought up on the hard grounds of junior club Manly Marlins and the Waratahs, he appreciates he has plenty to learn about the vagaries of English rugby.
Walsh said: "The kicking game here is a lot more prevalent than it is back home and that's something I'm looking at closely. At the Waratahs we had an excellent kicker in Bernard Foley and I also enjoyed watching Christian Leali'ifano at the Brumbies, but in the northern hemisphere you're looking at Owen Farrell and Jonny Sexton and the guys at Chiefs are world-class kickers as well.
"I'm definitely a running No.10 but part of the reason for coming here is to learn to play in different conditions and develop my kicking game. That's something I really want to do and I'll take as much information as I can from guys like Steeno, Joe Simmonds and Harvey Skinner."
With experienced fellow Aussie Dave Dennis acting as 'Minder' and having moved into accommodation with Chiefs team-mates Patrick Schickerling, Shea Cornish and James Kenny, Walsh could find himself thrown into first team action quickly with a glut of Premiership games to come.
He added: "I'm just going to put my head down, train hard, start learning all the calls and do as much as I can. Obviously, I want to be playing when I can but we've got a world-class stable of fly-halves at this club and you've seen how Simmo has progressed over the last two years.
"I knew about Exeter and a few of their international players, but in terms of the coaching staff I didn't know much about them so I've got to learn all the systems. Chiefs have a way they want to play the game and my main aim at the moment is to learn the calls the coaches want."