Williams up for Community Award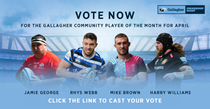 By Mark Stevens
14/5/20
This is your chance to decide you should follow Jamal Ford-Robinson and be crowned Gallagher Community Player of the Month for April 2020.
What's the award for?
With Gallagher Premiership Rugby currently suspended there hasn't been any action to allow our expert judging panel to select their Gallagher Premiership Rugby Player of the Month for April based on on-pitch performance.
So, together with our partner Gallagher, we are renaming this award as the Gallagher Community Player of the Month – to find and applaud the Premiership player who has had the made the biggest social contribution to their local community in April.
What do you need to do? Please read below the nominations for the four players on the shortlist and use the form below to place your vote.
Voting closes at 10am on Monday 18 May
Harry Williams – Exeter Chiefs
The Chiefs prop brought the local community together with a very funny live Bake Off with supporters where they could make an Orange Drizzle Cake with him. At the same time he answered questions from fans about lockdown life, his rugby career, GBBO and much more. He's also one of a number of Chiefs players to take part in the #MakeThatCall initiative, calling a club fan, which has been a nationwide success.
Mike Brown – Harlequins
During tough times for the nation and while NHS staff stand as the frontline of defence against the coronavirus pandemic, Harlequins fullback Mike Brown, the most capped fifteen in England history, has been raising money for the Harlequins Foundation's fundraising for the NHS charity 'CW+ Covid-19 Rapid Response Fund'. The appeal was established in response to the current pandemic, with the aim of supplying the Chelsea and Westminster hospital (Quins' local hospital) with new equipment, technology, and support for frontline staff. To date, Brown has auctioned off Adidas trainers, Adidas boots, Harlequins Adidas kit and England Canterbury kit, raising a total sum of more than £2500 for the NHS, with a mixture of England kit still available on the InMyLocker website. Brown has also spent time mentoring recruits from the Army Training Regiment Winchester via video calls, aiding both new and injured recruits in the development of personal resilience and coping mechanisms within the current climate.
Jamie George – Saracens
One of the inspirations behind The Big Lift, the Saracens, England and Lions hooker was encouraging people to lift one million kilograms in one day after the death of one of Barnes Rugby's most loyal supporters, Garry Garret. Gary's son Jack and the Saracens man have been close friends since a young age, with the 29-year-old George quickly taking up the mantle to make a major contribution to the ambitious challenge – which has now raised over £100,000 after soaring past its £10,000 target.
Rhys Webb – Bath Rugby
The Bath Rugby scrum-half has joined forces with a friend while on lockdown to work night shifts helping to make PPE for healthcare workers in their fight against coronavirus. Rhys has been putting in 12 hours overnight with his friend's company, putting together basic plastic masks before they are shipped on for finishing and sending onto the NHS. Together, the night shift team are managing to make around 3,500 masks a night. Rhys said he's inspired by his sister, who is working as a nurse at the Princess of Wales Hospital in Bridgend. He said: "Seeing the amount of work she's getting through at the moment, anything I can do to help is easy for me." He added: "At 2am or 3am, the eyes were getting a bit heavy but seeing the pile get lower and lower made me think, 'come on we can do this."