Woodburn hungry for more success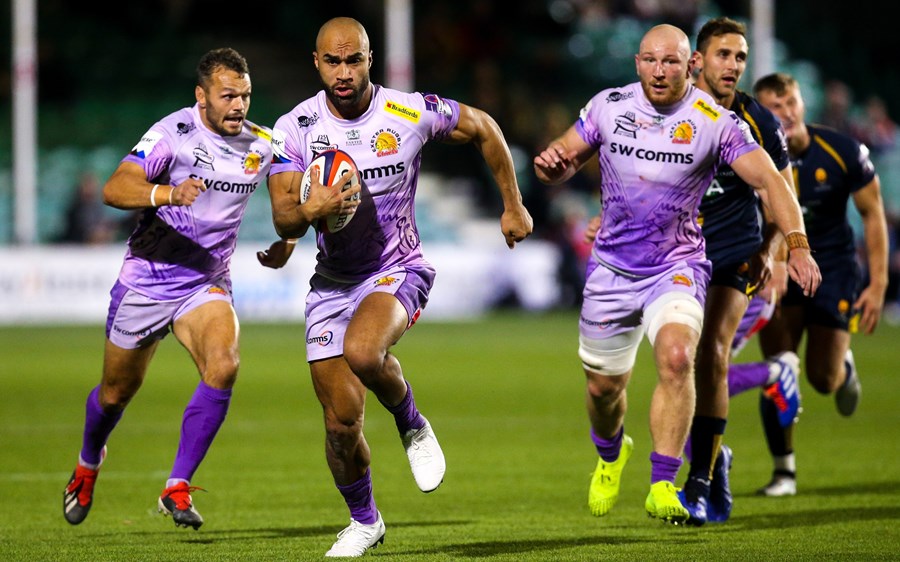 By Mark Stevens
9/10/19
This Saturday marks the final dress rehearsal for the Exeter Chiefs ahead of what promises to be another huge season on the big stage for Rob Baxter's side.
Whether it be domestic or European action, Devon's finest are now seen as a leading light within the modern-day game - and with it comes an expectation for the Chiefs to stand up and deliver with their star-studded cast of players.
Having transformed their on-field production over the past ten years, Baxter is now able to call upon a glittering array of young talent.
Among them is Olly Woodburn, who since arriving from local rivals Bath in 2015, has established himself as one of the Premiership's most prolific finishers. His 37 tries in 91 appearances is testament not only to the prowess of the player himself, but also Baxter's own eye for spotting and nurturing untapped talent.
Wavering in and out of the Bath set-up until that point, Baxter wasted little time in acquiring the services of the Keynsham-born winger.
Now entering into his fifth season in Chiefs colours, the 27-year-old has not only established himself as an integral part of Exeter's attacking arsenal, but his displays have also helped to push the side onwards and upwards, most notably their title-winning success in 2017.
Woodburn has featured in three of the last four Premiership Finals, the only exception being the most recent against Saracens in June of this year. That narrow 37-34 loss was a tough pill to swallow for everyone at the Chiefs, including the speedster, who has reported back this season hungrier than ever to prove his worth to the cause.
A try in Exeter's opening 28-14 win of the season against Bath in the Premiership Rugby Club sounded his intent for the new campaign - before he followed up last Friday with another equally impressive score in his side's 34-19 victory up at Worcester Warriors.
"I'm really enjoying playing at the moment," said Woodburn. "To get two tries and two 80-minute performances under my belt has given me some real momentum to go into the new Premiership season with. The vibe around the club and the boys, the way we want to play, it's all very exciting."
Indeed it is, the Chiefs enter into this weekend's tussle with Bristol Bears knowing victory over their nearest and dearest will guarantee them a place in February's Cup semi-finals. Baxter has used the past three weeks to blood virtually all of his available first-team players, ensuring he not only has a wider pool of stock to select from, but that there is genuine competition for places right across the board.
Last Friday's win up at Worcester underlined the fighting spirit of the Chiefs, who battled back from 19-10 down to record a maximum haul of points in their 34-19 success.
Afterwards, stood in the Sixways tunnel - his shirt covered in blood having sustained a decent readjustment of his nose - Woodburn outlined the belief and aims of the Chiefs moving forward.
"We are a team that loves winning," he said. "It doesn't matter what competition, if we're training, whatever, we go out to play hard and to win games of rugby. As a club we want to be playing in those big games and we want to be winning silverware. This Cup is the first chance for us to try and do that.
"Worcester was a tough game for us. They started really well and they really came at us, especially in the first half. We came in at half time and we needed that bit of a wake-up call to get ourselves back into the game. Second half, we were much better and I was really proud of the way we ended the game."
As one of the more established names in the Chiefs ranks that night, Woodburn's experience certainly paid dividends when the visitors were forced to re-jig their back division following three significant injuries.
"It's never a good thing when you have to have two Maunders on the pitch at the same time!" he joked. "But it was good that we had a few old heads out there to help us manage the situation. That allowed us to get a bit of a grip of the game again and after that we just handed it over to the forwards to finish things off, which they did very well."
And it's that fighting spirit Woodburn believes will drive the Chiefs forward again this term.
"Even with 20 minutes to go, I wasn't too worried," he added. "We may have been down on the scoreboard, but this is a team that is not afraid to go after things. This is my fifth year at the club and I've seen the strides we've made. All of us have that confidence in one another, the coaches and the system, that it doesn't mean we panic at all. We just back ourselves to keep going until the end."