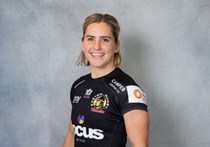 Exeter's big-name signing ahead of the 2022/23 Allianz Premier 15s season, Claudia MacDonald joined the Devon club from league rivals Wasps Women.
Since first picking up a ball aged 19 with Sutton & Epsom RFC, Claudia has enjoyed a meteoric rise up through the rugby ranks.
She captained Durham University in 2017/18, joining Tyrrells Premier 15s side Darlington Mowden Park Sharks to make her debut in September 2017.
Having moved to Wasps FC Ladies for the 2018/19 season, she was awarded an England EPS agreement in January 2019, and she came off the bench in all three of England's 2018 Quilter Internationals, as well as against Wales in the 2019 Women's Six Nations.
Claudia scored a try in England's opening Super Series fixture against the USA and her impressive performances earned a full-time England contract for the 2019/20 season.
A mainstay of the hugely successful Red Roses side, MacDonald has not only helped her country to Six Nations titles, but a 30-game win streak, as well as featuring for her country as they reached the final of the Rugby World Cup in 2022.
Her career, though, could easily have been cut short after her head was compressed against her chest in a training session, leaving her with one acute prolapsed disc and another bulging, MacDonald thought her career was at an end.
Medical advice was split between surgery, which came with considerable risk, and leaving the neck to heal of its own accord. Spring turned to summer and early one morning, soon after she had lined up a job as a sustainability consultant, MacDonald's phone rang as she lay in bed. It was the England doctor.
"He said he had some really positive news for me," she recalled. "That the latest scan showed there was no reason I can't return to contact sport. I had hoped for a miracle but wasn't expecting one at all. I half screamed, half cried. That was a pretty amazing day."
She's not looked back since and has quickly settled to life in Devon with the Chiefs.