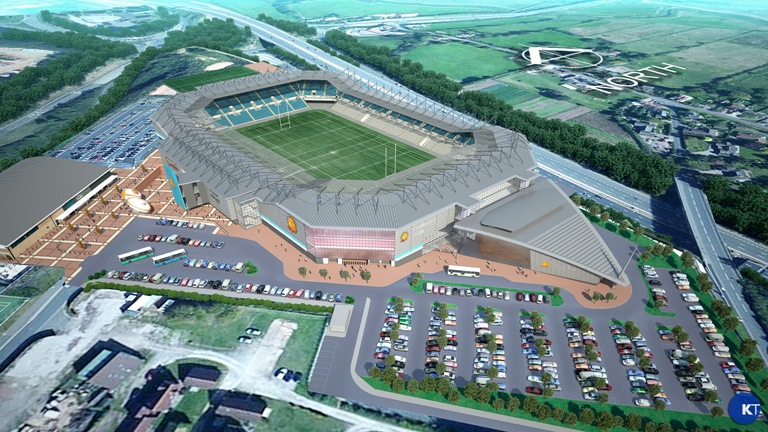 Plans have been submitted to redevelop the home of the Exeter Chiefs to almost double current capacity.

The Premiership rugby club has released these striking images of its vision for their stadium and what it wants to achieve in expanding its Sandy Park ground from 10,750 to 20,600.

This will be achieved by developing three grandstands. There will also be substantial expansion of the conference and banqueting facilities at the ground to enable the club to generate the income needed to compete at the very top echelons of European rugby.

The Chiefs' chief executive Tony Rowe described it as a five-year project and it remains subject to receiving planning permission from Exeter City Council.

But after the proposal was submitted to the council this week Mr Rowe said he was excited about the progress the scheme had made.

He said: "If we can get planning permission we will look to start the work next year. We are doing it in an anti-clockwise direction starting with the west grandstand where we will be adding extra seats and expanding the conference facilities by 50-70 per cent.

"Then when money permits we will continue around the ground to the south grandstand, which will increase capacity future and also provide extra conference and banqueting facilities.

"We will then move onto the east grandstand, again increasing capacity, which we actually already have planning permission for but are including this so it is all in together. We got it two years ago but have not done anything with it yet.

"We will move through it when we can afford it."

In addition to the ground work, parking outside the stadium will be increased from 150 to 400 as well developing a bus and coach drop off point and a television compound. A new conference centre will also be built at the back of the south stand.

Mr Rowe added: "One of the biggest problems we have on match days is that the TV compound takes up a third of the car park so that will remove that problem. There will also be a dedicated drop off zone and a bus station that can accommodate 17 buses at any one time."

He said they needed to increase the amount of money the club generates from non-match day income to sustain their progress.

"I predict that in three to four years we will average an attendance of about 13-15,000. We will not fill the ground regularly but a 20,000 capacity is what you need to play at the top end of European rugby and host Heineken Cup quarter and semi-finals. This will give us the headroom when we are playing in big games.

"A lot of work has gone into the planning to get it to this stage and I am delighted we have now been able to submit this application.

"This development will have benefits for the whole of Exeter. With the business community expanding with other developments such as the Skypark these kind of facilities are needed in Exeter where meetings can be held.

"As a spin off we get to have a bigger capacity and the two come together very well."