Get Your 2013/14 Season Ticket Now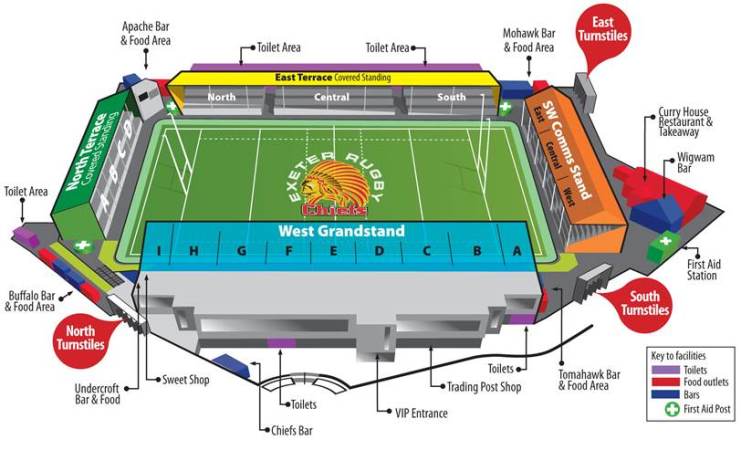 Picture: Exeter Rugby Club/Pinnacle Photo Agency
Often regarded as the hottest ticket in town, today marks the official launch of the Exeter Chiefs Season Ticket for the 2013/14 campaign.
By signing up to a Season Ticket at Sandy Park, not only do you guarantee your place for another fantastic year of Aviva Premiership, Anglo-Welsh and European competition, but you will also save up to 18% on normal match-day ticket prices.
As the region's Premier sporting club, a season ticket with the Chiefs – who were recently voted as having the best match-day experience following a survey by Premiership Rugby – will ensure you not only watch some of the biggest names in world rugby right here in the Westcountry, but it also offers you a range of other significant benefits.
With adult prices ranging from £300 to £470, your season ticket will include home admission to 11 Aviva Premiership matches, three European pool matches and two Anglo-Welsh cup ties, as well as all pre-season friendlies, A League and Academy matches.
On top of all those fixtures, you will also be able to claim discounts on match-day bar beverages and purchases within the club's official Trading Post.
Another incentive brought in by the Chiefs to assist supporters is a new Season Ticket Standing Order , which will commence on May 15 and be followed by further payments over the month of June, July and August, helping to spread the cost for you the supporter across a longer time period.
Those supporters who wish to obtain their new Season Ticket and pay for it either by cash, cheque, debit card or credit card can still do so with payment not being taken until after June 1.
Commenting on the launch of the Season Ticket prices, Exeter Rugby Club Chairman and Chief Executive, Tony Rowe OBE, said: "As a club we have again looked closely into our pricing structure for next season.
The decision to increase some of our admission prices for the first time in two years was not an easy one, but in the current climate we felt it was necessary not only to keep our business on an even keel, but at the same time ensure we are able to support Rob Baxter in putting out the best possible squad next season.
"The benefits, we believe, of having a season ticket for the Chiefs are there for all to see. Not only will supporters save themselves a significant amount of money when you compare it to buying tickets on a match-by-match basis, but there are also a number of other key benefits aimed at rewarding our loyal fan-base.
"Also our new payment plan will ensure supporters can spread the cost of their new season ticket over a much longer period rather than be hit with one mass amount; whilst the introduction of our new Family Ticket for an adult and two children, we feel, will ensure that not only can we attract even more families to Sandy Park, but we can offer them an affordable package to do so."
Click here to download
your Season Ticket Application Form