Pictures: Getty Images
By Mark Stevens
Exeter Chiefs head coach Rob Baxter believes new signing Ceri Sweeney is a "perfect fit" as he looks to bolster his squad for the 2013/14 season.
The Welsh international, who has agreed a one-year deal, is Baxter's third capture ahead of next season following club-mate Tom James from the Cardiff Blues and also Gloucester's Dave Lewis.
Fly-half Sweeney heads to Sandy Park after five years in the Welsh capital with the Blues, where he has scored 324 points in 109 appearances - and before that four seasons with the Newport-Gwent Dragons where he landed 570 points in 86 appearances.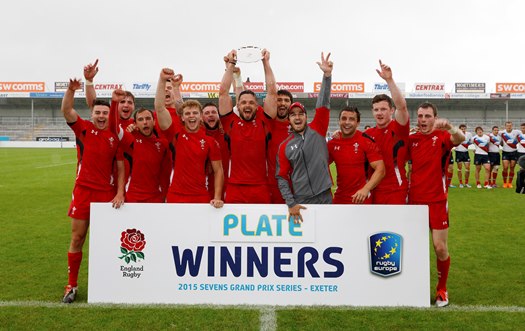 His arrival in the Westcountry helps fill the void left by departing Argentinian international Ignacio Mieres, who is set to join Aviva Premiership rivals Worcester Warriors from the start of next season.
Remarking on Sweeney, who has 35 Welsh caps to his name, Baxter said: "Obviously people are aware that with Nacho moving on next season we were in the market for a new fly-half. As always we've looked at a lot of people and done a great deal of research, all of which has led us nicely to Ceri.
"We feel having looked at him and having also spoken to him as well, he ticks all the boxes for us. We think he will be a great addition to the squad for next season and that he will compliment well our own two fly-halves in Gareth Steenson and Henry Slade.
"Not only does he come with a greal deal of experience at an international level, but he's also run teams through Heineken Cup seasons and played in some very big matches over the years. I think what we also like about Ceri is that he is still very hungry and that he sees the challenge of coming to us a big opportunity in his career.
"He's know there will be a real battle for that starting shirt next season, but I know he's ready to fight tooth and nail for that. At the same time, we feel he will fit into our environment and our culture very well and that his experience will help further develop both Steeno and Henry moving forward."
Sweeney's move to Devon means it will be the first time the Glyncoch-born back has played club rugby outside of Wales, but Baxter says that very challenge was part of the player's decision to try something new.
"What impressed us when talking to Ceri was that he was very excited not just about joining the Chiefs, but also testing himself in a different league and against different players.
"He's played all his club rugby in Wales so far in his career, but this is something different for him. From our own experiences, we've brought quite a few guys in from Wales and they've all fitted in well and added something to the squad.
"Quite often with those guys they've tended to come in the tough way and through the Welsh systems - and that's kind of made them strong rugby players. I think Ceri has done all that, but also he's played at the highest level with Wales too, so we feel he's a perfect fit in a lot of ways for us."
As well as the arrival of Sweeney, Baxter has also hinted that a number of other new faces could be heading to the Chiefs in the not too distant future - and that other members of the current first-team squad are close to agreeing new terms.