Appleby confirms six new arrivals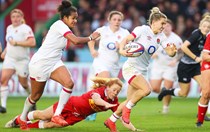 By Mark Stevens
20/7/22
England international Claudia MacDonald heads up an impressive list of new arrivals heading into the Exeter Chiefs Women's squad ahead of the 2022/23 season.
The 26-year-old scrum-half arrives at Sandy Park from Allianz Premier 15s rivals, Wasps Women, where she has spent the past four years.
Prior to playing in the capital, the gifted half-back captained Durham University in 2017/18, before joining Darlington Mowden Park in the Premier 15s.
Her talent was clear to see and having moved to Wasps, it was in January 2019 that she was included in the England Women's EPS squad.
With 18 Test caps to her name, MacDonald was part of England's Grand Slam winning side of 2019 and is seen as a proven talent within the modern-day game.
Also heading to the Westcountry from Wasps is Irish international hooker, Cliodhna Moloney.
Like MacDonald, the 29-year-old has been a regular performer for Giselle Mather's side in recent seasons, firmly establishing herself as one of the best performing front-row forwards within the Premier 15s.
And the pair will be joined in Chiefs colours by two more front-row forwards in the shape of Italian international Silvia Turani and USA Eagles star Charli Jacoby.
Completing the set of newcomers for Susie Appleby's squad are Liv McGoverne, a utility back from New Zealand, plus Australian flyer, Halley Derera.
"It's going to be really exciting," said Chiefs head coach Appleby. "There are some unknown names there, who have come through just word of mouth or a little bit of recommendation, but we know they are all quality players.
"Liv hasn't been capped by the Black Ferns yet, but from the footage I've looked at, I'm surprised by that. Halley has been playing in Australia, but I think she's top try-scorer in their provincial comp; she's English-qualified and she is a real find for us.
"We then have a few coming back from the World Cup. Charli is proven at this level with Loughborough, but she wanted a change of scenery and comes with an amazing amount of experience and energy.
"Cliodhna coming from Wasps, she's the dog (in the nicest way possible) that I have been looking for. She is a real workhorse, has an amazing ability to get over the ball, and has great skills.
"Silvia, I don't know a huge amount about her, but she has expressed a desire, having seen what we have been doing over the last few years, to come and be part of us, which is brilliant. She comes as a well-established Italian international, who covers all across the front-row, so that's going to be invaluable.
"Finally, Claudia is a world class player. She started in the back-three, so she is super quick, but migrated into playing nine where she's just electric. As I said, she has real quality and will really add to the group."
Appleby has not ruled out other new arrivals coming in, but admits she is delighted to have retained the services of a high number of last season's squad, which won the Allianz Cup, as well as coming runners up in the Allianz Premier 15s.
"Having that core group of players on board is key," added Appleby. "Many of them have been here a while now and it means we can build on the success of last season, as well as bringing in new faces that will add real talent and competition for places within the group.
"At the same time, we've also got a solid group of what I would call homegrown talent. They are the future of the club and it's fantastic to see girls from the region being able to step up and play for the Chiefs. We've seen already a number of them already recognised within different areas of the England set-up - and the aim is for that to increase further over the years."
Part of those future plans include the promotion of five apprentices into Appleby's squad. Exeter College quartet Charlotte Gale, Danielle Preece, Isabella Hartley and Evie Walker have been joined by Tilly Ryall, who comes from Hartpury College.