Appleby seeks perfection despite win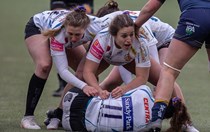 By Harry Scott-Munro
14/2/21
Exeter Chiefs Women's head coach, Susie Appleby' admitted that the performance of her side was somewhat "mixed", this despite them securing a fifth consecutive victory in the Allianz Premier 15s with a 17-10 victory over Worcester Warriors.
Tries from Kate Zackary, Niamh Terry and Garnet Mackinder, alongside a conversion from Gabby Cantorna, not only ensured success at a snowy Sixways, but also gave the Chiefs their first league double of the season.
Speaking at the final whistle, Appleby said: "We had some good bits and some bits that need a lot of work on, including some of the basics, which is disappointing. However, it is a win and an important win. I thought Worcester were very good and we'll take nothing away from them as they really came at us today, but we still got to where we needed to get."
As expected, the Warriors proved a creditable challenge to the Chiefs and Appleby saluted the home side's display.
"Alex Matthews was outstanding for them at six and Heather Fisher obviously made an impact for them when she came on," added Appleby. "If I'm honest, they just controlled the game a little better than us.
"I think we probably got a bit overexcited and didn't execute our kicking game as well as we should've done. Also, our defence was a bit off the money. I wouldn't blame the conditions, I just think we were a little off our game today, but coming off the back of two fabulous wins, we'll take that win and move forward into Darlington."
There were, however, some impressive individual performances for the visitors, most notably Welsh international Terry – on her first league start – and American international Rachel Johnson, who added some much-needed physicality from the bench.
"I thought Niamh at the back was absolutely outstanding today, a really good performance and she got a try, which is brilliant. She's a young player who doesn't seem very confident, but she's a wonderful player and I think she's going to get better and better. Hopefully that will have given her some confidence out there.
"Again, Rachel Johnson, absolutely outstanding when she came on the pitch. Not just in defence like last time, but also in attack. She carried the ball 30 metres the first time and 20 metres the second time."
Lottie Holland also impressed at outside centre, having shifted in from the wing due to Lauren Cattell's absence – and Appleby admitted that the combinations on display give her and assistant coach Amy Garnett "a lot of food for thought for selection," ahead of the remaining fixtures.
Looking ahead to her side's next fixture, at home against DMP Sharks, Appleby believes that the key buzz word is "performance."
"(The aim is) not giving up the ball at crucial times when we're in attack, that's what we need to get better at as otherwise, we not going to get these wins that we need to get in this third third of the season."
With six games of the season to go, Appleby's side are well in the mix at the top end of the table, with the head coach delighted with the efforts of her players thus far.
"When we're accurate and on our game, we can beat any team and we've shown that" she continued. "We're all in it and buying into it, there's no lack of effort and that's the brilliant thing, they all want to play for each other and they're all loving what they're doing and we're going in the right direction."