Appleby sees positives in defeat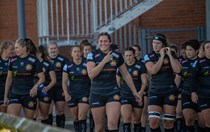 By Mark Stevens
12/10/20
Exeter Chiefs Women's head coach Susie Appleby admitted there were plenty of positives to take from her side's performance, despite kicking off their Allianz Premier 15s campaign with defeat at Gloucester-Hartpury.
On what was a historic day for the visitors, the Chiefs produced a valiant display at the Alpas Arena, before eventually going down 34-14.
Skipper Linde van der Velden and fellow forward Kate Zackary found their way over for tries for the Chiefs, both of which were converted by fly-half Taylor Black. However, it was never enough against a strong home side, who replied with scores of their own through Kelly Smith, Shona Powell-Hughes, Zoe Aldcroft (2), Hannah Jones and Daisy Fahey.
Post-game, Appleby reflected on her side's debut showing, saying: "It would have been dreamy to come here and get the win first up. That said, we came here, we wanted to look at ourselves and we wanted to put ourselves out on the field. We did all of that - and in a very commendable way too!
"Everyone knows Gloucester-Hartpury are a very good side and they showed that against us. For us as coaches, however, there were plenty of positives and it's a really good start point for us to build on going into Bristol this week and beyond."
With Appleby set to use this week to further embed her new-look squad, the Chiefs coach is confident there will be yet more improvement by the time they take to the Sandy Park turf this Saturday.
"We won't make a huge difference in a week, but we will be better," she said. "One of the areas we will look at is our decision-making, just because there were things we could have done in the game that may have brought us greater reward.
"As I said, the good far outweighed the bad and there was some fantastic individuals performances. Linde, as we thought, led by example as skipper, Kate Zackary was outstanding and literally everywhere on the field, I thought Taylor did at well at 10 and brought some real control, while Lauren Cattell at 12 was also very good.
"There were others as well who did well, so it's a case of us building on that and looking to improve this week."