Appleby signs up host of local talent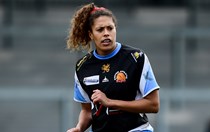 By Mark Stevens
11/9/20
Exeter Chiefs Women's head coach, Susie Appleby, says she will make the most of top Westcountry-based talent based on the club's doorstep as she readies her new-look team for the start of the Premier 15s.
With excitement mounting ahead of the club's debut season, Appleby is continuing to build her squad and today she is pleased to announce a clutch of new faces heading to Sandy Park.
And those players are Charlie Budge, Daisy French, Merryn Doidge, Lottie Holland, Ebony Jefferies, Garnet MacKinder and Jess Thomas, all of whom have strong links to the region and all of whom are keen to play their part in establishing the Chiefs as a force within the women's game in England.
"It's brilliant that we're able to announce all of these girls coming into the squad ahead of the new season," said Appleby. "What pleases me most, however, is that all of them have local links and that's fantastic.
"Unlike in the past where a lot of these girls - and others as well - would need to travel further afield to play top-class rugby, now there is no need for them to move away. Not only can we offer them that chance of playing in the top division, but with the opportunities we can create either with education or employment, it's a win-win for everyone."
In what has been a testing time for Appleby trying to piece together a squad during a global pandemic, the former England international is at last starting to see the fruits of her work come together with the Chiefs squad moving into Stage Two training in the past week.
"We're getting there," added Appleby. "Over the next week or so we'll announce a number of other signings, which is great news for us. We're also up at Sandy Park training now as well, working with coaches like Ricky Pellow and Gareth Steenson, and the squad is starting to really come together."
As for her new recruits, all of whom Appleby is well accustomed to from previous seasons in the Premier 15s, she is excited at what all of them will bring to the Chiefs mix moving forward.
"Charlie's been at Exeter Uni playing for them and also Bristol Bears," added Appleby. "She's a quality hooker, as is Daisy who joins us from Worcester. She started out in the back-row, but has switched to the front-row and between them they both offer a great skill-set and mobility.
"Merryn's an England Under-20s international who been travelling up and down to Bristol from Cornwall to play, so getting her on board is a real coup, as is getting Lottie Holland in as well. She's played for Bristol and for England 7s in the past, but she has great experience and is a quality centre.
"Garnet is another whose played a lot of 7s in the past, but again she's coming back to the area. She's another whose played for a couple of the top clubs in London and she has great experience, which we will need in that back three area.
"As for Ebony, she's a great operator, has a fantastic work-rate in the back-row, and is another whose played at a decent level.
"Finally, Jess, has been part of Exeter Uni in the past, winning the BUCS title with them, she's also been travelling up and down the motorways to play her rugby, but with the opportunity we've been able to give her, she can play her rugby, but she's also going to do a Masters at the Uni."