Appleby's joy as McNaughton joins up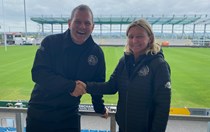 By Mark Stevens
2/9/21
Duncan McNaughton says he's been given a 'wonderful welcome' after agreeing to be part of the Exeter Chiefs Women's coaching staff for the upcoming Allianz Premier 15s season.
Head Coach Susie Appleby has spent the summer not only adding fresh talent to her playing ranks, but she has also bolstered her coaching team, bringing in former Chiefs skipper Tom Hayes, as well as Scotsman McNaughton.
Together, Hayes and McNaughton have been entrusted with overseeing the Chiefs forwards - with particular focus being placed on their defence, skills and set-piece play.
McNaughton, who has spent over 20 years living in Canada, is the National Senior Women's scrum coach for Rugby Canada and is vastly experienced within the modern-day game, working already with the likes of Exeter's Emily Tuttosi, Olivia de Merchant, DaLeaka Menin and McKinley Hunt.
Now, though, he is set to get stuck into life with the Chiefs in the Premier 15s - and he admits he cannot wait to help Appleby and her squad as they prepare for their 2021/22 campaign.
"I've had a wonderful welcome and the club itself is fantastic," he said. "It's a great group of athletes and coaches that I get to work with here - and we're very much looking forward to the new season.
"Watching from afar, I'm a huge fan of the Premier 15s and now I'm excited to be part of it all here at the Chiefs."
McNaughton's arrival has been heralded by Appleby, who believes his partnership with Hayes can help take the Chiefs onto new levels this season.
"I think him and Tom compliment each other very well," she said. "Already you can see them working in tandem and coming up with a whole host of different ideas, which is great for us!
"Duncan is not only hugely experienced within the women's game, but his knowledge and his understanding of the game, particularly around the scrum area, are just second to none. He's going to be a fantastic asset to us, as is Tom, and I am really looking forward to working with both of them."