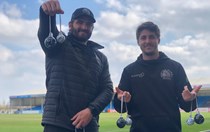 By Mark Stevens
1/4/21
A master glassblower has joined forces with his favourite rugby team and created special pairs of "oddbaubles" to raise funds and awareness for Testicular Cancer Awareness Month.
Will Shakspeare, of Shakspeare Glass, and players from Exeter Chiefs have joined forces to promote The OddBalls Foundation – the testicular cancer charity, throughout the month of April.
Chiefs players Don Armand, Facundo Cordero and Jack Nowell have all pledged their support to the Shakspeare Glass initiative, and together with OddBalls the Exeter Chiefs have created a bespoke "Chiefs Check Yourself Guide", which will be shared throughout April in aid of Testicular Cancer Awareness Month.
Shakspeare Glass's oddbaubles together with the Chiefs' guide aims to remind people about the importance of checking themselves, and to raise vital funds.
Will's oddbaubles are based on the Exeter Chiefs' team colours – black and white, and £10 from the sale of each pair will go towards the OddBalls charity.
The oddbaubles will be on sale from April 1st – which Will has aptly renamed 'April "Balls" Day'.
Will said: "I'm a great Exeter Chiefs supporter and I've always supported OddBalls and brought their merchandise. Every year Shakspeare Glass picks a charity to support, and this year we've decided to support The OddBalls Foundation, as it's a charity close to my heart.
"We hope people will like the special oddbaubles I've created, and will help us support Testicular Cancer Awareness Month throughout April."
Exeter Chiefs' Don Armand said: "We're delighted to support Will's creative initiative to raise money for The Oddballs Foundation and awareness about testicular cancer. It's a great charity and Will's oddbaubles are great!"
OddBalls' mission is to get people more comfortable talking about cancer. There are still taboos associated with illnesses like Testicular Cancer, so it's very important that people are able to talk about it. Raising awareness is vital to beating cancer.
2,300 men each year in the UK are diagnosed with Testicular Cancer, so Shakspeare Glass together with the Chiefs want to hit home the importance of checking yourself for lumps and bumps.
Will Shakspeare's oddbaubles are on sale through the Shakspeare Glass website at http://www.shakspeareglass.co.uk/products/oddballs
You can find out more about the Check Yourself Guide at https://www.myoddballs.com/pages/check-your-self-guide