Baxter assesses new fixtures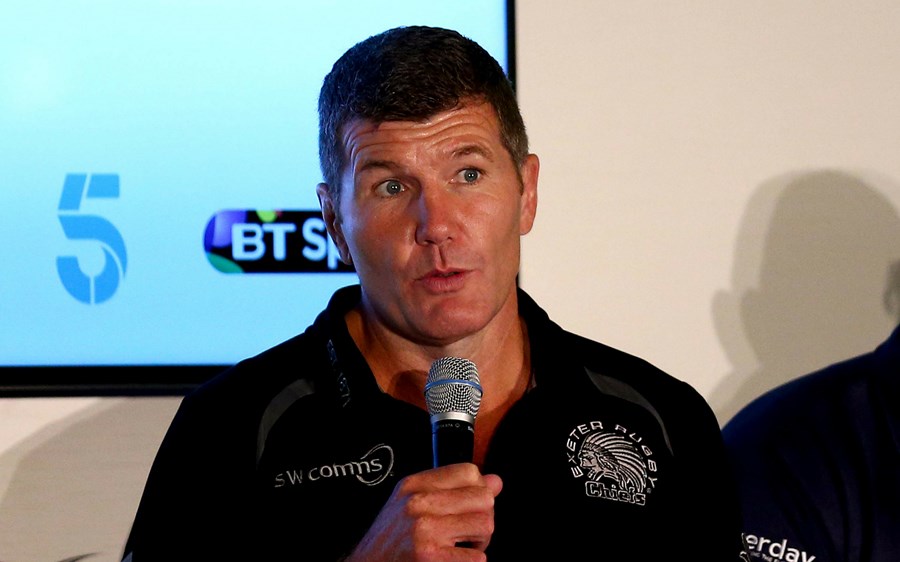 By Mark Stevens
6/7/18
Exeter Chiefs Director of Rugby Rob Baxter is expecting a fiercely contested Gallagher Premiership in 2018/19 following the announcement of the new season's fixtures today.
Last season's beaten finalists will kick-off their ninth campaign in the top flight with the visit of Leicester Tigers to Sandy Park on Saturday, September 1 (4:30pm).
It is one of six televised clashes that BT Sport will cover of the Chiefs in the opening nine rounds of battle for English rugby's top prize.
Reflecting on the new fixtures, which will see the Chiefs face the Tigers, Wasps, Sale Sharks, Newcastle Falcons and Worcester Warriors in the opening month of the season, Baxter said he is relishing the challenge that lies ahead for him and his team.
"It kinda of feels the same every year," said Baxter. "You have this thought in the back of you mind where you think 'I wonder if we'll get an easy start this year?'But then you realise pretty quickly that there is no such thing as an easy start, especially when you look at that opening group of fixtures for us.
"To start against Leicester, then Wasps, two sides who have both been regular top four contenders in recent years, then Sale, a side who you would say we haven't really had a convincing victory over for a long time, then to go to Newcastle - who we had some real hum-dinger battles against last season - on a Friday night, it's certainly a sobering start to the season for us.
"That first four games, you'd say it has a bit of everything for us and it underlines that we will have to get our heads down very quickly."
Baxter welcomed back the majority of his first-team squad for their opening week of pre-season on Monday - and he wasted little time in outlining his vision for the new campaign, which he believes will be potentially the Devon club's toughest assignment yet.
"Each year we are seeing the standard rise in terms of it's competitiveness," he warned. "That's not just in what we seeing game by game, but it's back up statistically with how tight the results are and also how close the battle for positions is becoming.
"As a coach it's an exciting time, but it's also a bit worrying as you don't quite know what to expect.The first box to tick from our perspective is to have a strong pre-season and use that to make sure we hit the season in the best shape possible. If you do that, you start collecting points fairly quickly and you start dragging yourself into that top half, which is what you want.
"Right now, we will look to build for those first couple of weeks, simply because that really sets your mind for the challenges ahead. That will set the marker for the season of just where we stand. We obviously believe - especially after what has happened in the last few years - that we're at least a top six side.To get that again, however, you have to fight very hard from minute one. After that, you then want to drive your standards as hard as you can to try and get into that top four.
"As I said, those opening fixtures will certainly let us know if we've had as good a pre-season as a couple of our rivals for that top six spot."