Baxter demands more despite win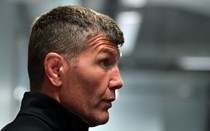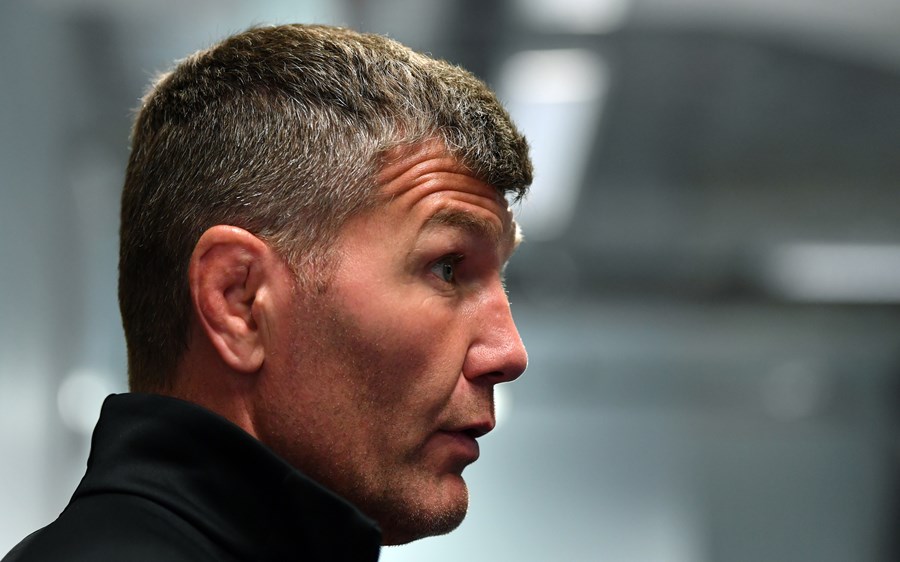 By Mark Stevens
27/4/19
Exeter Chiefs Director of Rugby Rob Baxter pulled no punches about his side's showing, despite them clocking up a 16th win of the season in the Gallagher Premiership with a 17-15 success over visiting Harlequins.
Early tries from Ollie Devoto and Nic White helped the Chiefs establish a 12-0 lead inside the opening quarter, only for Marcus Smith to counter with a penalty for the visitors just before the break.
England international Harry Williams added a third Exeter try early in the second half, before the Londoners hit back strongly - making the most of Ben Moon's sin-bin to score tries of their own through Sam Hidalgo-Clyne and Charlie Walker.
Smith converted the first of those efforts, but failed with the second - as well as a late penalty - and it was the Chiefs who were able to breath a huge sigh of relief at the final whistle.
"I am really pleased with the character we showed to hold out and eventually win the game, but - and I know this may sound a bit strange - it feels a little bit like a loss," said Baxter. "I am concerned how we couldn't hold the game together around the set-piece and we almost seemed determined to drive ourselves into difficult scenarios with some of the things we did.
"Some of the situations didn't look very well thought through and composed and we didn't look like a team that was either working or thinking our way through the game very hard.
"I am not running away from confronting the players with it, and if they don't like what I say when we do the reviews of this game, then they don't like it, but I want them to win the Premiership as much as they want to win it, and sometimes they need a bit of cold, hard direction, and that's what is certainly needed over the next week or two.
"The players are not going to have a lot of time off over the next few weeks, they are going to be getting some hard work done, and they better start rolling their sleeves up and enjoying it."
Baxter added: "I have just given it to the forwards in the changing room despite the win. That is very odd because I say every week how precious Premiership points are and how hard they are to come by.
"We did some things right out there, but I also told them this is an Exeter Chiefs pack of forwards, playing at Sandy Park, yet we have ended up being yellow-carded for scrum offences, we did not get our maul at any stage looking dominant and it looks like we have been pushed around a bit.
"I just worry that we are going to decide one day that now is the day to be good because it is the semi-final, and we might just leave it a bit too late.
"I don't want us to sleepwalk into something, and I am going to say it now, and if I fall out with the players for a couple of weeks, we can build some bridges over the next fortnight. But I am not going to wait and drip our way towards it, and then play Northampton here and we are not ready for that, and then we suddenly go 'right guys, you have got three training sessions now to win us the biggest game of our season.
"I would rather talk about it now, and if I am going to get it wrong, I will get it wrong now and not then."
Baxter believes part of Exeter's struggle for form has been down to the fact the Chiefs qualified for a home semi-final in record time, but he insists they must up their game if they are to be challenging for glory come next month's play-offs.
"At this stage of the season, we have won the big prize and it has created an almost little emotion vacuum. They are not quite sure where they need to be.
"I have said to the players they are human and I get it. There is this big game coming up and you are thinking about it. That little bit of killer togetherness that sees dominant results coming is not there at the moment. It is right under the surface but what I am worried about is we expect it to come in the week of the semi-final and the players are just looking around saying 'where is it?'
"I have challenged the players in the changing rooms to snap out of it. It is not good enough."
Exeter face second-place Saracens at Allianz Park next Saturday, and it will be fascinating to see how each team approaches the game, especially as Mark McCall's side have a Heineken Champions Cup final against Leinster in Newcastle the following weekend.
"There is a team management issue for us, it is difficult to look at the team and say we need a rest at the minute, because it doesn't feel like that and if anything it feels like we need some game time under our belts," said Baxter. "It will be an interesting week for us and some interesting decisions have to be made."