Baxter harbours high hopes for Chiefs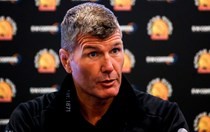 By Mark Stevens
29/6/20
Exeter Chiefs Director of Rugby, Rob Baxter, is anticipating a reshaped Gallagher Premiership landscape when top-flight clubs do eventually get back to playing.
With Saracens already confirmed as the club dropping out of the division following their punishment for breaching the salary cap, Baxter believes those clubs in the lower half of the table may look to use the remainder of the 2019/20 campaign as an opportunity to build for the future, whilst those in and around the top six will adopt a much different strategy when the action resumes.
"Some teams will play completely differently and you'll have some teams with absolutely nothing to lose," said Baxter. "There will be some clubs out there who will see this as a huge opportunity to almost restart their squad process.
"Our first game back is against Leicester: are they going to be playing like the Leicester that finished last season or are they going to introduce a load of new stuff?
"For us, our first goal is to qualify in that top four, then our second will be to try and get into that top two for obvious reasons. That may mean our approach is totally different to that of Leicester, but that's why every game will be so interesting."
The Chiefs are now three weeks into Stage One training and hopes are high that they will be able to step things up further in the coming weeks.
Asked if mid-August was a realistic target date for action to resume, Baxter replied: "At this stage, yes.
"If you get to Stage Two training by July 6, then it certainly is because we will be working on the areas that will allow us to be prepared to play.
"Obviously, being physically prepared and those games actually taking place are two different things. There are so many things that have got to happen. People are mingling now and you see things that are happening on beaches. Even in Liverpool with the celebrations, there is a lot of close contact happening. I would imagine if any these things lead to second spikes or changes in how we are dealing with the Covid-19 situation then things like sport will get changed quicker than anything else."
Like Liverpool in football's equivalent of the Premiership, the Chiefs sat at the summit of the table before all sport was brought to a close in mid-March due to the lockdown enforce by the Government. Since then, Jurgen Klopp's side have returned to action, winning their first league title in 30 years last week.
The Chiefs would themselves love to replicate the achievement of the Reds, but Baxter knows the task of his side claiming a second Premiership crown is far from a formality.
With nine games of the interrupted regular season still left, Devon's finest are five points clear at the top of the table from next-best Sale Sharks and are looking strong in their quest to emulate their achievements of 2017 when they lifted English rugby's top prize with an extra-time victory over Wasps at Twickenham.
And whilst Baxter is conscious that Liverpool possessed a bigger cushion prior to clinching their first Premier League title in 30 years, he admits football's resumption has also encouraged Exeter to believe they can finish with a bang.
"Obviously it does," added Baxter. "If you're saying 'Do I have confidence we will do okay?' the answer is 'Yes, I do'. The huge difference is that Liverpool could come back and be a bit shaky and still win. We have a slender lead by comparison. We've also still got to get into the top four and then win a semi-final and a final. The important thing is to try and keep things in your own hands for as long as possible. We aim to start on fire and get better from there."
Many of those who have helped the Chiefs assume pole position in the Premiership will remain in situ when the action does get back underway. However, Baxter's options will be bolstered by the fact that all of his summer signings will also get the chance to play their part.
Scottish internationals Jonny Gray and Sam Hidalgo-Clyne are among those who have joined the Chiefs, as have promising young trio Aaron Hinkley, Corey Baldwin and Josh Hodge, and Baxter is looking forward to working with the quintet.
Like the capture of Stuart Hogg 12 months ago, the signing of Gray – who is set to officially join the Chiefs on Wednesday – has been heralded as another quality bit of business from Baxter.
"He's one of these guys who'd describe himself as a bit of a student of the game, he loves rugby and loves to talk about it," Baxter said of the 26-year-old forward.
"He's probably spent an inordinate amount of time already seeing how we play and I've spoken to him at length about how things will work.
"When you talk about someone like Jonny Gray, you're talking about someone who drops out of a Glasgow environment into the Scotland environment, a guy who wants to drop out of the Scotland environment into a British Lions environment. Those kinds of players should be able to adapt relatively quickly into fitting into what the rest of a settled team will be.
"I therefore don't envisage too many issues, which would mean physically if we get him right, then I would see him being available for us from game one of the competition when it restarts. It will be the same with Sam, Aaron, Corey and Josh."